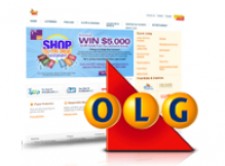 For Canadians in the Great Lakes region, the Ontario Lottery and Gaming Corporation (OLGC) is the provider of online sports betting, commercial and Aboriginal casinos, along with slot play at horse betting tracks.  The OLG offers Ontario sports fans the Proline method of online sports wagering. Action is offered on North American pro and college leagues, along with full coverage of International soccer scene. Sports wagering with the OLG version of Proline is available at lottery kiosks throughout the Province of Ontario.
Alternatives to OLG sites
Single bet wagering options are not available at the OLG sites. Canadian bettors looking to wager straight up on a single sporting event should refer to our Top 3 offshore sports betting sites listed below.
OLG Sports Betting Sites
Bettors can connect to the family of OLG sports betting sites through their main portal at www.olg.ca. From there players have access to information on Proline sports betting, Slot and Casino play, along with a vast selection of Lottery schemes. Placing sports bets live online isn't offered in Ontario at the current time.
OLG Proline rules
Handicappers with any level of experience will notice that the Proline rules, as set out by the OLG, are substantially different from those at the top offshore Sportsbooks. Primary differences include a lack of single bet wagering, the addition of a TIE betting price, as well as a choice of five wagering options for each event.
OLG Proline pools
Pro Picks is a pool betting option in the OLG Proline wagering family that runs on a daily basis and comes with sizable payouts. On a single card, bettors predict the outcome of up to 16 options, teams or players,  from selected sports leagues. Straight up wagering cards are posted online three days prior to the contest.
Is OLG a Crown Corporation?
As is the case with gambling of any kind north of the 49th, all three levels of Government have a say in the sports betting activity in Canada. Answering to the Attorney General of Ontario, the OLG is a Provincial Crown Corporation responsible for the numerous gaming sites available to Ontario sports betting enthusiasts. That's reason enough to check out the OSB top ranked online sports betting sites.