This guide will help you make the best MLB bets! As the oldest professional sport in North America, Major League Baseball betting has a rich history and there is no doubt that sports betting has entwined itself into a sport that's been around for 117 years. MLB betting and odds have been available for decades – legal or not, and to this day MLB is our main summer focus as sports bettors. In this guide, we cover the best MLB betting sites, MLB odds, the latest news, and MLB picks.
The 2023 MLB Championship winners' odds were last updated on September 7, 2023:
| World Series 2023 | |
| --- | --- |
| Atlanta Braves | +300 |
| Los Angeles Dodgers | +400 |
| Houston Astros | +600 |
| Baltimore Orioles | +800 |
| Tampa Bay Rays | +900 |
| Texas Rangers | +1200 |
| Seattle Mariners | +1200 |
| Philadelphia Phillies | +1400 |
| Minnesota Twins | +2200 |
| Toronto Blue Jays | +2200 |
| Milwaukee Brewers | +2500 |
| Chicago Cubs | +3500 |
| San Francisco Giants | +5000 |
| Miami Marlins | +8000 |
| Arizona Diamondbacks | +8000 |
For those readers looking to find the MLB best bets today, you're in the right place. Our in-house experts follow MLB betting trends and highlight tricks and strategies to find value when betting on baseball. Find the best baseball betting tips here.
There are over 2,430 Major League Baseball games played during the regular season, with each team playing 162 games. This is double the output than you'd see in the NBA or NHL and makes for plenty of betting opportunities during the summer months, and we aren't even counting Spring Training or the postseason.
The MLB is made up of 30 teams, with 15 teams in the National League and 15 in the American League. All but one team reside in the United States, the only Canadian team is the Toronto Blue Jays. The MLB started in 1903, though historically, the founding of the National League can be dated back to the 1860s.
Best Online Sportsbooks for MLB Betting
Now that you have an idea of how to make a good MLB bet online, we can look at where to bet on your favorite professional baseball teams. Here are our favorite online MLB betting sites.
Even though your state may have legalized sports betting already, there are still many that haven't passed laws or updated legislation yet, so offshore sportsbooks are still the best option for betting on the MLB.
Finding a reliable online sportsbook that offers the best MLB betting odds, MLB bonuses and a variety of deposit options should be your main priority. All MLB sportsbooks are different, so shopping around for the best MLB betting odds and the best features are of the utmost importance before betting on any baseball games.
Bovada
Bovada is a great MLB sports book. There are plenty of reasons to love this sportsbook for baseball bettors, and the biggest one is their sterling reputation. They are the most household name in online baseball betting, and this reputation has been earned over many years of outstanding customer service, timely payouts and withdrawals, and extensive MLB betting markets. Enjoy this great MLB sportsbook, as it is an essential part of nearly every professional bettors portfolio. They will also have college baseball bets, for those looking to expand!
Sign Me Up To Bovada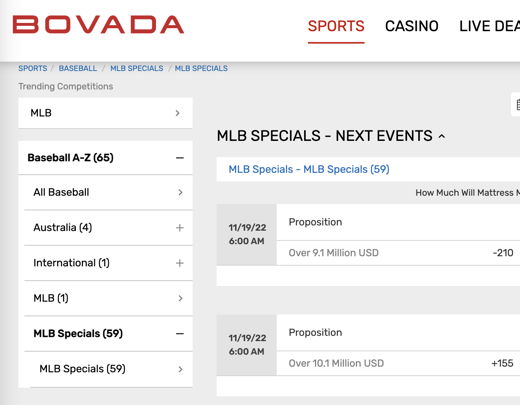 BetOnline
BetOnline is one of the top online baseball sites available! They have been around for a long time, and their expertise show. They have earned our trust over the years! And we are not alone in this analysis. Plus, they have World Series futures up all year round, so you can always wager on this popular baseball bet whenever you want! Check out this great MLB online sportsbook and start betting now!
Sign Me Up To BetOnline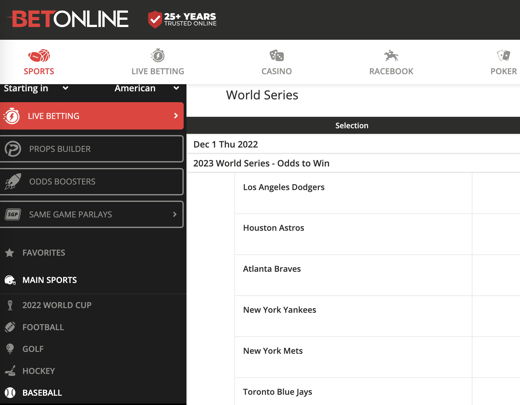 MyBookie
MyBookie is an excellent choice for a baseball online betting site. One of the main reasons is that they offer a choice of welcome bonuses, depending on if you want to lower your rollover requirements, or if you want to put more value in raising your percentage match. Either way, having your choice of welcome bonuses will help you make more and better baseball bets. This type of freedom will guide you from Spring Training all the way through the Playoffs and World Series!
Sign Me Up To MyBookie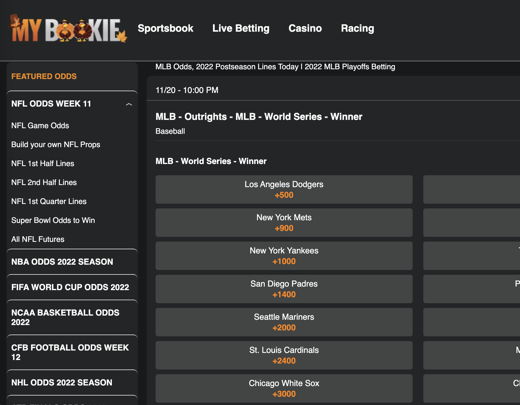 BetUS
BetUS is an excellent choice for baseball bettors across the United States. One of the main reasons, which is a top criteria when we look at baseball betting sites, is that they have incredibly competitive Major League Baseball betting lines. When we analyze these lines, we look at the variety of odds, the different baseball bets they offer, and we make sure the odds are a good deal, but also reasonable. Any odds that seem too good to be true probably are. The Baseball odds at BetUS hit that sweet spot.
Sign Me Up To BetUS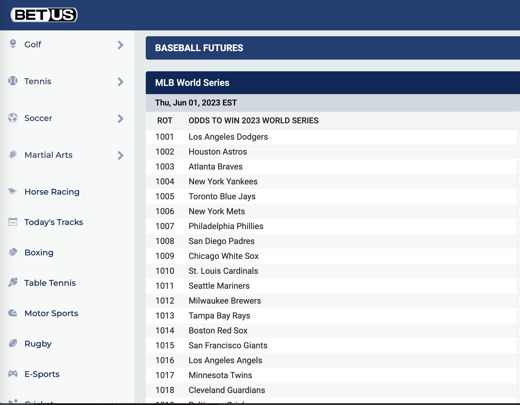 XBet
XBet is one of the most loved Major League baseball sportsbooks. XBet is a great baseball betting site overall, but really stands out for its mobile betting platform. It is an incredibly smooth experience, which is vital for a mobile baseball betting app. In fact, another great aspect here is that they do not require you to download anything i order to use it. You can just click here while you are using your mobile device, and the site will automatically adjust to your specific device.
Sign Me Up To XBet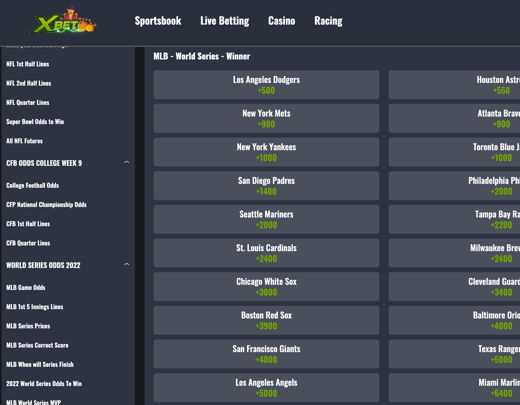 You can be sure that certain sportsbooks, such as DraftKings and FanDuel, will never ever make it into our top MLB betting sites. These onshore sportsbooks join the likes of BetMGM, Unibet, Fox Bet, Caesars, PointsBet, and BetRivers. They are almost always among the worst sportsbooks because of their high operating costs, which they necessarily pass along to their MLB bettors. Why sign up there when you can also place baseball bets at the high-quality sportsbooks that we recommend above?
Best MLB Bets September 2023
The 2023 World Series futures odds are out! Keep an eye on how they move
With so much time, the best MLB bet is on a current underdog, such as the Atlanta Braves (+850)
In the offseason, check out baseball specials and props
Bovada lets you bet on where Aaron Judge will play his first game in the 2023 regular season
How the MLB works?
As we mentioned, the 30 teams are divided into two leagues: the American League and the National League. Each is then divided into three divisions of five teams – the East, Central, and West.
After the regular season ends (after the first Sunday of October), ten teams enter the postseason playoffs. Six of the teams are division champions with the best record, and four wild card teams from their respective leagues. The wild card teams play against each other and the winners participate in the division series play.
The winners of the best of five-game Division series move on to the American and National League Champion Series. These are best of seven series and the winners are champions of their respective leagues and pennant winners. These two pennant teams move on to play in the World Series.
An average MLB season can provide countless betting options for sports bettors and can get overwhelming to say the least – so let's go through our MLB betting guide, and familiarize ourselves with popular betting options and how to bet on the MLB. Read on for more information regarding baseball betting online.
How to Bet on MLB games?
Let's take a look at MLB betting odds first:
MLB Betting Odds
MLB odds are those numbers you see next to a team name, whether they're positive or negative. This denotes how likely a team is to win the game. With the positive numbers indicating that the team is less likely to win, and the negative number represents the favored team that is most likely to win.
If you have the New York Yankees at +300 and the Boston Red Sox at -200, that means the Red Sox are favored to win that game, and the Yankees are the underdog. A bet on the Red Sox wouldn't pay out as much because the oddsmakers are predicting that they would be the ones to win, but a bet on the Yankees would pay out much more if they did pull off the win.
MLB odds represent how much you would need to bet to win a certain amount of money. In the case above, you would need to bet $200 on the Red Sox to win $100. You can bet any denomination, but that bet isn't really worth your time unless you were 100% sure the Red Sox would win the game. If you bet on the Yankees, you would need to bet $100 to win $300 plus your initial stake.
Popular MLB Betting Options
Now that we've covered what MLB odds look like, let's look at popular baseball betting types that you will be able to choose from when betting on Major League Baseball. The biggest fans can also bet on the MLB All-Star Game
Betting on the MLB Moneyline
The easiest betting type you can place on any given MLB game is the moneyline. It's easy to understand and great for new bettors. Your only job is to determine which team will win the game. We've outlined a basic moneyline bet above, let's dig in a little further:
If the Red Sox and Yankees are playing and you believe the Red Sox will win, you select the Red Sox and you're good to go. Ensure you review the odds and the pregame matchups to ensure you do plenty of research before making your bets.
Let's look at an example:
Boston Red Sox -120
New York Yankees +450
We changed the numbers around to give you a different perspective. The Red Sox are still the favored team, with -120 odds. A $120 wager, with the Red Sox winning, would pay out $100 plus your initial wager. The Yankees are still the underdog, and if they upset the Red Sox and win, a $100 wager would yield $450 plus your initial $100.
MLB moneylines are a great betting option, especially if you use the proper models. For example, using this statistician's model, he was able to really gain a stable foothold on MLB moneylines, even classifying them as an investment asset.  Not only does he develop his strategy by modifying the Kelly criterion, but he actually implements it and demonstrates its success.
Betting on MLB Point Spreads
Point spreads in the MLB are commonly referred to as the 'runline'. It is the exact same as any other point spread, it just goes by a different name, you may see puck lines in NHL – it's the same thing in baseball. Spreads are popular throughout all professional sports, but MLB runlines can have really great odds depending on the game.
Point spreads essentially give the underdog team an imaginary head start, meant to level the playing field in games that are one-sided. Your sportsbook has expert oddsmakers that will decide who the favored ball team is, and determine the spread based on how those two teams match up for the game.
The MLB runline shows us how many points a sportsbook believes a team must win or lose by, depending on which side you're betting on. If you choose the favored team, their spread will be a negative number, and they must win the game by that amount of runs. If you choose the underdog, they must lose by less than that number of runs or win the game.
For example, if you have the Chicago Cubs at -2.5 and the Pittsburgh Pirates at +2.5, the Cubs are favored to win the game. The Cubs are expected to win by a few runs, and for your bet to win, they must beat the Pirates by more than 3 runs. The Pirates, on the other hand, need to win the game or lose by less than 2 runs.
Betting on MLB Totals
When looking at the MLB oddsboard, and you can't decide which team to bet on, betting on the over/under or the totals can be a great opportunity to still get value out of an MLB game. Totals betting is quite simple, and you don't have to choose one team over another – you simply have to decide if the total number of runs scored by both teams collectively will be over or under your chosen oddsmaker's line.
If you have the Arizona Diamondbacks versus the Colorado Rockies, and the total is set at 12, you will need to decide if you think both teams will score more or less than 12. If both teams easily get over six runs per game, that should be an easy bet to place, and you'd take the over. Also, take into account that the game can go into extra innings if tied, so this could makeovers extra juicy.
Betting on MLB Props
Prop bets or proposition bets as they're commonly referred to as are the more fun bets associated with any given MLB game. Props are unusual circumstances or happenings that don't have anything to do with the outcome of the game. You could bet on a certain player to hit a home run or grand slam for example.
Prop bets are just for fun, and shouldn't be taken too seriously. The best online sportsbooks offer a huge selection of props per game, providing a much greater variety than your neighborhood retail sportsbook.
Betting on MLB Futures
MLB Futures are extremely popular in the early or middle season because they offer huge value with higher risk. Betting on MLB Futures means you are placing a bet on which team will win an event outcome in the future – sometimes even months in advance. As soon as the World Series Champion is announced, sportsbooks release the following season's futures.
The main MLB Futures that sports bettors tend to focus on are the Winners of the World Series and the pennant winners. Predicting if a team will win the World Series months before it happens can turn into a great payout in the long run – finding a baseball betting strategy that works for you is key to success.
Let's use the 2019 season for our example.
In January 2019, the Washington Nationals were far from being the favored team to win the World Series. The Houston Astros and New York Yankees were favored at the time at +600. The Washington Nationals odds actually got worse, they were even less likely to win the World Series in June 2019, when their odds went down to +5000, meaning if you took them in June to win, a $100 wager would turn into $5000.
The Nationals were even underdogs in the World Series, ending the season with +570 odds. Meaning anyone who was willing to bet on them throughout the entire 2019 season would have made some serious bank.
What Are The Current MLB Standings
Scan the standings below to help form your long-term betting strategy. Dissect the analytics and form your betting strategy well in advance.
Look for mismatches, like a team playing a day game following a night extra-inning game, or perhaps an afternoon game following a day-night doubleheader.
MLB Betting Tips
Here are some of the best MLB betting tips to get you through the regular season, postseason and even the World Series with a sterling record. While no one can guarantee betting success, this collection of MLB betting strategies will do a lot to improve your odds!
1. Don't overreact
News will constantly be flowing in that will affect how you and other bettors, and even the bookies, are thinking about upcoming baseball bets. Make sure to keep all of this in context, so that you do not overreact to it and make any rash moves
2. Know when to use parlays
Baseball parlays should only be used selectively. Keep in mind, when you string together many bets, you have tow in all of them to get a positive outcome on the parlay. However, this will also multiply your potential profit.
3. Shop Around for the best baseball lines
You will not want to miss out on the best deals out there. This means you will want to compare the same wager across a number of baseball betting sites, so that you can be sure you are getting the best bang for your buck!
4. Sign up with more than one MLB sportsbook
Signing up with more than one MLB sportsbook will allow you to take advantage of the different betting lines and multiple welcome bonuses.
5. Only use recommended baseball betting sites
Using recommended MLB betting sites will ensure that you are in safe hands and getting the best possible baseball betting experience.
Best MLB Betting, September 2023
MyBookie lists Gerrit Cole as the favorite at -250 odds to win the 2023-2024 AL Cy Young Award.
Bovada has the Houston Astros at +650 odds as the 2nd most likely team to win the 2023 World Series.
BetOnline has the Houston Astros leading the AL pennant odds at +325.
The Los Angeles Dodgers top the National League futures at +185 odds to win the pennant.
Kevin Gausman is an underdog at +1000 odds to clinch the AL Cy Young Award.
Luis Castillo is listed at +350 to take home the AL Cy Young Award on BetUS.
The Atlanta Braves rank 3rd in the National League at +125 odds to win the 2023 pennant.
Bovada gives the Los Angeles Dodgers the best +400 odds to win the 2023 World Series.
BetUS has the Atlanta Braves at +300 odds to win the 2023 World Series Championship.
---
MLB Betting FAQs
Is betting on my favorite team the best MLB bet tonight?

No, betting on your favorite team may not be the best MLB bet tonight. In fact, it's important to avoid making emotional decisions when it comes to sports betting. Instead, consider doing your research and analyzing the odds before placing a bet on any team. Look at the stats and the team's recent performance to make an informed decision. Additionally, consider utilizing a betting strategy such as line shopping or bankroll management to maximize your chances of success. Remember, betting on sports should be approached with caution and a level head.

Baseball betting tips for beginners?

For beginners who want to start betting on baseball, here are some tips to help you get started:
1. Do your research. Before placing any bets, take the time to learn about the teams and players you're betting on. Look at their statistics, recent form, and any injuries or absences that could impact their performance.
2. Stay disciplined. Set a budget for yourself and stick to it, even if you have a winning streak. It's easy to get caught up in the excitement and overspend, but this can quickly lead to financial trouble.
3. Shop around for the best odds. Different sportsbooks will offer slightly different odds on a given game, so it's worthwhile to check several different sites to find the best possible payout.
4. Consider the weather conditions. Weather can have a big impact on a baseball game, so be sure to check the forecast and factor that into your betting decisions.
5. Start small. As a beginner, it's best to start with small bets and work your way up as you gain more experience and confidence in your predictions. Don't bet more than you can afford to lose, and don't chase losses by making bigger bets in an attempt to recoup your losses.

Are these baseball betting sites legit?

Finding reliable baseball betting sites can be difficult and there are always risks involved in any form of online gambling. It's important to do your homework and research before placing a bet. Make sure the site has a secure payment system, a solid customer service record, and positive reviews from users who have used the site before. Additionally, it's important to check for any legal or regulatory issues that may be associated with using such websites in your country of residence.

What type of baseball bets are available?

There are several types of baseball bets that you can place, depending on your preferences and knowledge of the game. Here are some common types of baseball bets to consider:

1. Moneyline: This is simply a bet on which team will win the game. You bet on either the favorite or underdog to win outright.

2. Run line: Similar to a point spread in other sports, this is a bet on which team will win by a certain number of runs. The favorite will be listed with a -1.5 run line, meaning they must win by at least two runs, while the underdog will have a +1.5 run line, meaning they can lose by one run and still cover the spread.

3. Over/under: Also known as a totals bet, this is a wager on whether the total number of runs scored by both teams will be over or under a certain number set by the sportsbook.

4. Prop bets: These are unique bets offered by the sportsbook, such as which player will hit a home run or which team will score first.

5. Futures bets: These are bets on something that will happen in the future, such as which team will win the World Series or which player will win the MVP award.

Who sets MLB betting lines?

MLB betting lines are typically set by oddsmakers, who work for sportsbooks or online sports betting sites. These individuals use a combination of statistical analysis, their own experience and intuition, and other factors (such as injuries or recent team performance) to set the lines for each game. The objective is to balance the betting action on both sides, so that the sportsbook can collect a commission on each bet without taking on too much risk. Ultimately, the betting lines are subject to change as more information becomes available, such as changes in the starting pitchers or weather conditions.

What is the best MLB betting strategy?

There are several MLB betting strategies you can implement to improve your chances of winning. Here are a few tips to get started:
1. Study the statistics and trends. Look at both team and player statistics, including individual pitcher stats and team batting averages. This will help you make more informed betting decisions.
2. Keep an eye on the weather. Weather conditions such as wind and rain can have a significant impact on the outcome of a game, so be sure to factor this into your betting strategy.
3. Bet with your head, not your heart. It's easy to get caught up in fandom and emotions when it comes to sports betting, but it's important to make rational decisions based on data and analysis.
4. Consider betting on the underdog. While it may seem counterintuitive, betting on the underdog can sometimes offer better value than betting on the favorite.
5. Use a bankroll management system to avoid making impulsive or emotionally driven bets. Set a budget for yourself and stick to it, even if you're on a winning streak. This will help you avoid potentially costly mistakes.

Can someone make a living betting on MLB games?

It is possible for someone to make a living betting on MLB games, but it requires a significant amount of skill and knowledge. Betting on sports is a high-risk activity, so it's important to have a solid understanding of the teams, players, and statistics before placing bets. Additionally, successful sports bettors often have a disciplined approach to money management and are able to stay rational and calm even in the face of losses. While it's certainly possible to make a living from MLB betting, it's not a guaranteed or easy path to financial success.

Where can I bet on MLB?

There are many online sports betting sites where you can bet on MLB games. Some popular options include Bovada, BetUS, and BetOnline. Before placing any bets, make sure to research the site's reputation, security measures, and regulations in your state or country. It's also important to set a budget and practice responsible gambling habits. Remember, gambling should be done for entertainment purposes only and never bet more than you can afford to lose.

Is MLB betting easy?

Betting on Major League Baseball (MLB) can be easy or difficult depending on individual circumstances. If you have an understanding of the game, teams, and players, and have a solid strategy, then it can be easier to make successful bets. However, if you are new to sports betting or lack the necessary knowledge and skills, then it can be harder to make successful bets. It's important to do your research, keep up with the latest news and statistics, and start with small bets to minimize risk. Additionally, it's crucial to practice responsible gambling by setting a budget and sticking to it. Overall, like any form of gambling, MLB betting requires patience, discipline, and a willingness to learn and improve.

Is betting on MLB baseball legal?

Betting on MLB baseball is legal in many states in the United States, but it depends on the specific laws and regulations of your state. In 2018, the Supreme Court overturned a federal law that had banned sports betting in most states, giving individual states the ability to legalize and regulate sports betting. As of now, more than 20 states have legalized sports betting, including online and mobile wagering. However, some states have restrictions or limitations on the types of sports betting that are allowed. It's always best to check the laws in your state before placing any bets on MLB baseball or any other sports.
Meet the author