Latest
California

Legal Betting Updates

Dec 02, 2022 09:31 AM
Online Sports Betting is legal in California but only if you choose one of our partners like Bovada, BetOnline or BetUS. New domestic operators like DraftKings, FanDuel and BetMGM are not legal in California. Both ballot initiatives, Proposition 26 and Proposition 27 seeking to expand the legalization of some forms of sports betting in California in the 2022 Midtem elections on November 8th failed by a very wide margin.
Read More: California sports betting initiatives fail at the ballot box
California Sports Betting News
| State | California |
| --- | --- |
| ⚖️ Sports Betting Law Passed | No |
| 👶 Minimum Gambling Age | 18 |
| 🌐 Online Sports Betting | Yes |
| 📱 Mobile Sports Betting | Yes |
| 🏦 Retail Sportsbooks | No |
Can I bet on sports in California?
There are no legal physical sports betting venues in California, yet. It's easy to hop over to Nevada and place a wager in the neighbouring state, but there is another option for bettors that requires no travel time.
Legal Sports Betting in California
Online sportsbooks are a great option for Californian residents because they do not break any state laws (there aren't any gambling laws in place to be broken), are easy to use and the top sportsbooks are safe and secure. Sportsbooks like Bovada and BetUS offer competitive odds and bonuses that will keep loyal bettors happy.
Online sportsbooks can tide over sports bettors until the legalization evidently arrives, whether it's 2021 or later, you can still get in on the action.

Best Online Bookmakers in California
Here are the top online bookmakers available for bettors in California. We have reviewed them thoroughly and come up with this final list.
Bovada
Bovada is the best known sportsbook available in California. They attract the plurality of California bettors and have been on the scene for more than a decade. If trust and reputation are your top priorities, this is the sportsbook for you! They are well-rounded, as this i show they have earned the people's trust.
Sign Me Up To Bovada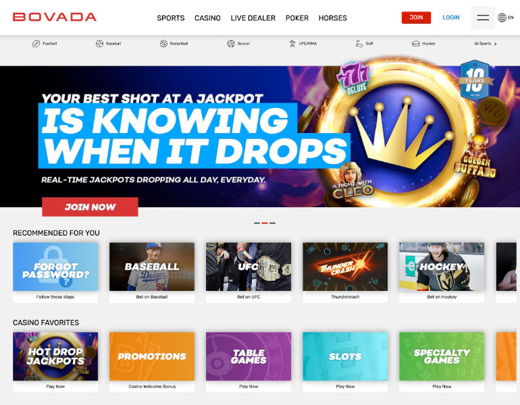 BetOnline
BetOnline has some of the largest sports betting markets anywhere on the web. And, in fact, they also have the odds out first thing in the morning. This means that not only will you find all the bets you want, but you will also be able to make the bets first thing in the day, allowing you to get an advantage over other bettors.
Sign Me Up To BetOnline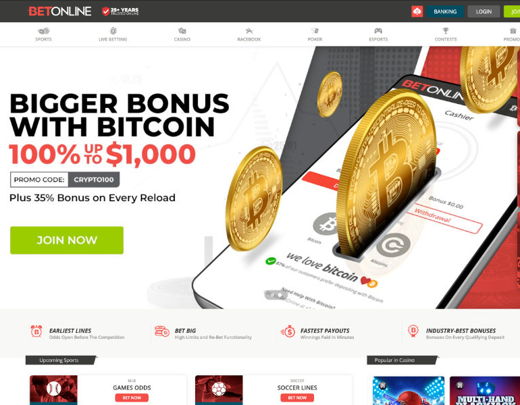 MyBookie
MyBookie has a great website and mobile platform design. They clearly deploy a mobile-first approach, thus making their desktop and mobile websites even better. This is the idea that if they design their site with mobile bettors in mind, then you will get the best design possible. If you are looking for a California mobile betting site, check out this one!
Sign Me Up To MyBookie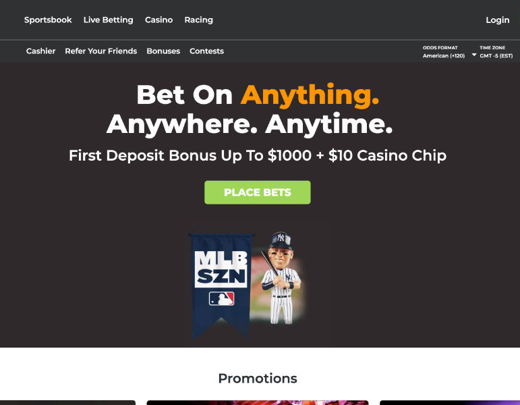 BetUS
BetUS has great welcome bonuses. Their standard signup bonus is worth 125% of your first deposit. In other words, they will more than match your initial deposit, more than doubling the amount in your sports betting account. If you deposit with Bitcoin, you will get even more back! It will be 150%, with 50% going to the casino and 100% to the sportsbook.
Sign Me Up To BetUS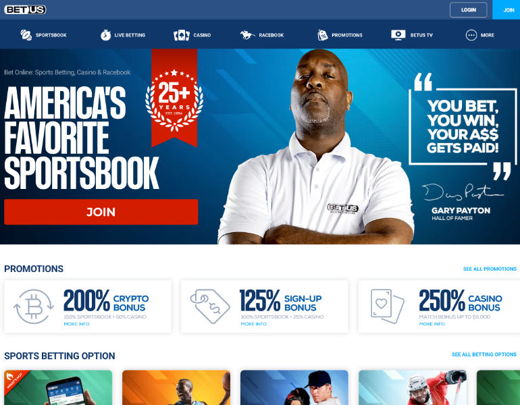 GTBets
GTBets is a great sportsbook for sports fans! Just save your favourite basketball and football sports teams in your account and get reduced juice on all those bets. This will make betting on your favourite NFL, NCAAF, NBA, and NCAAB games even more exciting and profitable! Plus, their blue and orange look is super handsome!
Sign Me Up To GTBets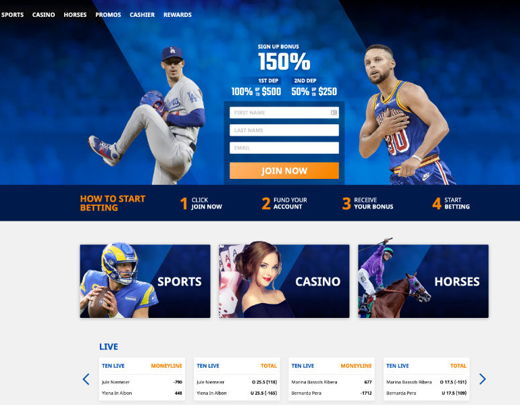 *Sadly, the legal blocker for California means that users won't be able to work with major US bookmakers, which is why offshore bookmakers are the main choice in the state. The following bookmakers are banned in the state: DraftKings, FanDuel, BetMGM, Caesars, PointsBet, BetRivers, Fox Bet, and Unibet.
Betting on NFL Teams in California - Latest Odds and Tips for the 2022/23 season
Matthew Stafford led the Rams to clinch the 2022 Super Bowl title. Los Angeles has a great deal of financial backing and after putting on a show last season, some expect them to repeat the feat in 2023. But a slow start to the season and simply not turning up has pushed them out of contention. However, their state rivals the 5-time Super Bowl winners. The 49ers are listed at +575.
The Kansas City Chiefs are the only other team nailed on as favorites across major providers, like the Bills and are listed at odds of +425.
The Los Angeles Chargers boast players like Justin Herbert, Khalil Mack, and J.C. Jackson, which makes them a team that can beat anyone on their day. But, with a poor start to the season, they probably don't have what it takes to clinch a title in 2023. This is reflected in the odds, with oddsmakers offering them as an outside shot at +4000.
The Philadelphia Eagles are this season's shock team, putting up a string of excellent wins, and are listed at +550 to win.
The Buffalo Bills started the season out as clear favorites and have continued in that vein of form throughout 2022. They continue to show why they are championship quality and will be the team to beat going into the Playoffs. GTBets has them listed at +425 to win it.
Betting on MLB Teams in California - Latest Odds and Tips for December 2022
The MLB World Series winners' odds for 2023 are the Los Angeles Dodgers at odds of +550 across major providers
The Philadelphia Phillies have longer odds than the Dodgers to win the World Series (+1600).
We would suggest one of the best outsider bets for the 2023 title is the Mets, who are starting at +1000 at GTBets and BetOnline.
The Yankees have fallen from grace in the last couple of years, now listed at +900 with the vast majority of prominent US providers.
The White Sox put up better numbers this year than some of us expected and are starting the 2023 season with odds of +2200 to win the World Series.
Betting on NBA teams in California - Latest Odds and Tips for the 2022/2023 season
The NBA futures at BetOnline have Golden State Warriors as the Top-3 favorite to win the Championship at +750.
LA Clippers are the Top-5 favorite at +1000.
The championship window is closing on LA Lakers, who won their last title during the bubble playoffs two years ago. The future odds for the Lakers to win the title are outsider odds at +6000 to win it.
Sacramento Kings are the least likely California team to win the title in 2023. If you bet $100 on them and they win, you'll pocket $125,000!
Luka Doncic is on for the MVP title this year, and his Mavericks are listed at +2200 to clinch their first title in over a decade at odds of +2200.
History of California Betting
Here we cover the history of California betting. What have been the main pushes to legalize it in the state and where can we expect to go from here.
A Brief Timeline of the Legality of California Sports Betting
November 8, 2022 – Both Proposition 26 and Proposition 27 failed to expand legal sports betting in California in the Midterm elections
October 30, 2022 – Special interest in ballot propositions is making things complicated regarding sports betting legalization in California.
September 30, 2022 - Dueling California sports betting propositions appear headed to defeat, poll finds.
August 27, 2022 - California's sports betting propositions break the state spending records.
August 8, 2022 - Analysts have predicted that both California sports betting ballot questions will be defeated.
August 1, 2022 - Just last week, a Tribe-Sponsored advert aimed at attacking opponents to Prop 27 was published, claiming those opposing the Prop liars.
July 28, 2022 - A recent lawsuit has come to light that could change gambling in casinos in California.
July 1, 2022 - In sports betting spat, tribes tout big backers against online giants, with Dolores Huerta leading things.
May 18, 2022 - The General Election in the United States and local elections in California with local measures such as the Draft Kings, FanDuel and BetMGM-backed measure for legalizing sports betting in California and a competing measure from the California Native Tribes - both measures collected enough signatures to be on the ballot.
May 17, 2022 - The Golden State Warriors are the only California team left in either NBA and NHL playoffs. The Edmonton Oilers eliminated The Los Angeles Kings in 7 games, and Dallas Mavericks beat Phoenix Sun also in 7 games. Mavericks and Warriors will now battle for the Western Conference title and the ticket to the 2022 NBA Finals against the winner of Eastern Conference Finals, Miami Heat or Boston Celtics.
April 15, 2022 - California voters get their opportunity to legalize sports betting in November, when the California Native Tribes' measure is on the ballot. This would legalize dice games and sports betting at Native American-operated casinos.
March 8, 2022 - A lawsuit to invalidate a retail sport betting ballot proposal has been filed because the Supreme Court declined to hear it.
February 25, 2022 - Over a fifth of California voters are undecided on sports betting, according to a survey from UC Berkeley. At least one sports betting option will be on November's ballot.
February 9, 2022 - Three tribes are looking to bring forward a sportsbook-backed ballot initiative to put mobile sports betting on the November ballot.
January 18, 2022 - The fight to control sports betting in California gets picked up by an article in the New York Times.
December 29, 2021 - A pair of California card rooms tried to stop one of the many sports betting initiatives for 2022, via a lawsuit.
October 19, 2021 - Four leading California mayors voice their support for the ballot, forcing citizens to vote on sports betting in California.
August 13, 2021 - One of the three sports betting initiatives for November 2022 faces a tough test to get passed. The California Sports Wagering and Consumer Protection Act must collect 997,139 signatures by April 2022 to be validated for the vote.
May 28, 2021 - California voters will decide on sports betting at tribal casinos in 2022. The ballot will pose the question of allowing the tribes to offer roulette, craps, and sports betting onsite, though online sports betting will not feature in the proposal.
California Sports Betting Timeline
The progress with legal sports betting in California has been a relatively short journey. Here's how things broke down over the years.
First progress with the amendment in 2020
Within days of the PASPA ruling, California Assembly member Adam Gray announced his desire for a pro-sports betting amendment. Shortly after, California State Senator Bill Dodd joined the movement, planning to shape a bill for inclusion on the November ballot. The first sports betting hearing in California was held in January 2020, and it didn't seem promising in terms of approval in 2020 at least.
Other states have a different approach towards sports betting. You can check the full list of US states here.
It's projected that sports betting in California could be worth $2.5 billion per year (including online betting revenue) in California - which is wild to think that there is even an ounce of hesitation from elected officials. There are a number of great sportsbooks near Los Angeles operating today, which provide a great range of betting markets and very competitive odds.
An initiative backed by 18 Native American tribes wants to limit sports betting to physical casinos and racetracks and banning online gambling in California. This is not a shared viewpoint with Dodd and Gray.
2021 and looking forward
It's assumed that sports betting won't be legalized until 2021 at this rate with the COVID-19 pandemic slowing down much of the world, so Californian sports bettors still have a little way to go before they can legally bet on sports in Californian casinos or sportsbooks.
Currently, gambling in the state is regulated and limited to card rooms, tribal casinos, the state lottery, horse racing, and charitable gaming. California has 69 Native American casinos, hosting 70,000 slot machines and more than two thousand table games.
The California State lottery includes Mega Millions and Powerball, which is always well received.
Horse racing is a big deal in California – the home of Del Mar, Hollywood Park and Santa Anita, making horse betting a huge revenue stream left untapped.
So, what does all of this mean? Californian residents love to bet and legal sports betting in California will open up new jobs and significant revenue streams for the Californian government.
California's Tribal Initiatives to Legalize Sports Betting
The main ballot initiative facing voters in November 2022  is a tribal initiative. It would allow for sports betting at tribal casinos and horse tracks throughout the state.
However, one of the major drawbacks of this initiative is that it would not allow for any online sports betting sites to be licensed in the state. Bettors would still be able to use the same offshore sportsbooks they have been using, but no new ones would be licensed.
The timeline set out by this initiative for mobile betting would be five years. There are even rumors that tribal spokespeople want that to extend to ten.
The problem is that California is huge, so getting to a tribal casino is not always practical. Plus,. It would not extend sports betting to the card rooms, which the tribes have argued violate their compacts.
Current State of Betting in California
The current situation for California bettors is multifaceted. We over here the current gambling laws in California.
Is Sports Betting Legal in California?
There are no legal physical sports betting venues in California, yet. However, you can bet on sports in California. It's easy to hop over to Nevada and place a wager in the neighbouring state, but there is another option for bettors that requires no travel time. As of today, there are four different initiatives that have gained access to the November 2022 ballot or are in the process of gaining access depending on verified signatures.
What is the legal gambling age in California?
The legal gambling age is 18, but in effect, if you want to visit a casino where they serve alcohol, you will have to be 21 to enter. However, 18-21 year olds can also bet online, as there is no alcohol being served.
How California compares to other states?
California is not as far advanced in sports betting and gambling as one might imagine. In fact, of all its neighbors, only Arizona is as restrictive as California in that they have also not opened up and local sportsbooks.
In fact, neighbouring Nevada is the locus of betting in the United States. You would think that some of this attitude would have come into California. However, this has not yet happened.
North of California, Oregon and Washington both have more open systems that in California. All the same, we expect California to catch up soon!
How can people in California place sports bets now?
Despite the fact that they are not yet licensing sportsbooks, Californians can place bets now by signing up at the right places. There are many betting sites for California bettors that are based offshore. Read all about them on this page.
The ones we recommend on this page are all available for California bettors to sign up, log in, deposit, play, and withdrawal.
How to gamble online in California
There are currently no online casinos licensed by the state of California. If you want to know how to bet online in California, then you should sign up at an online casino at one of the betting sites we recommend here. They are legally available to California gamblers and have a variety of games including poker, roulette and many different slots games. Many of the best ones will even include live dealers.
How to bet on Sports in California
California has a rich sports betting scene with multiple major league teams in the biggest sports. The main sports for sports betting in California are football, basketball, baseball, mixed martial arts like UFC and finally boxing.
How to bet on football in California?
You can choose to bet on NFL or NCAAF games in California. All of our top Sports Betting Sites feature football bets through out the year, but you will find the most available football bets during the season from August/September to February. The most popular bet types for football betting are the spread and the over/under, but moneyline bets are popular too, especially during the preseason.
How to bet on basketball in California?
Basketball betting in California offers the same options between major leagues and college games as football betting does. The Basketball Season starts in earnest in October, but future betting gets hot before that. The finals are in June, so you can bet on pre-game basketball odds during most of the year.
How to bet on baseball in California?
The baseball calendar is insane. If you live in the Golden State, you can bet on 81 regular season home games for a whopping five teams based in the sunshine state. That's over 400 home games during one regular season in California! If the moneyline bets are not your thing, try making it more interesting with spread betting and even player specials.
How to bet on UFC in California
All of our top partners have multiple markets for UFC. You can bet on the winner of a match, or the style of the win (Decision, T.K.O or K.O) or which round the fight finishes. You can also do futures betting in UFC by guessing which fighters will face each other in future matches.
How to bet on boxing in California
Boxing is one of the most popular sports to bet on in California. Boxing betting is similar to UFC betting: you can bet on the winner, what round the fight ends, or what style the fight finishes. Futures betting is the same in boxing betting as it is in UFC betting.
Betting on California Sports Teams
Host to 18 professional sports teams, the most of any state by 8, California has a huge sports following, and plenty of options regardless of which sport you enjoy.
Not many cities have two teams in the same market. With three NFL teams, LA Rams, LA Chargers, and San Francisco 49ers, it would be hard to choose a team to root for every Sunday if you live in California! The former Oakland Raiders, now based in Las Vegas but still boasting a big Californian fan base, have won the Super Bowl three times.
NFL
Betting on LA Rams Odds
The Rams relocated to Los Angeles from St Louis. They were able to bring home Super Bowl rings in both St. Louis (1999) and in Los Angeles (2021). They share their stadium with the LA Chargers, making Los Angeles one of two locales in the United States with more than one professional NFL team.
Betting on LA Chargers Odds
The Chargers relocated to Los Angeles from San Diego. They now share the SoFi Stadium in Inglewood with the Rams. They have unfortunately never won a Super Bowl championship. This is despite being division champions more than a dozen times!
Betting on San Francisco 49ers Odds
The 49ers have five wins. They racked up most of these with Joe Montana in the 1980s. Since then, they have hot and cold seasons, with a particular slump after their 1994 Super Bowl win. The 49ers have been in San Francisco since their founding in 1946.
NBA
The NBA also has four teams based out of California.
Betting on Golden State Warriors Odds
The dominant Golden State Warriors are currently the state's pride and joy, winning many recent NBA Finals. They paid big to get head coach Steve Kerr, but it is sure paying its dividends. Their name is for the entire state, but this team is based out of the Bay Area.
Betting on Sacramento Kings Odds
The Sacramento Kings enjoyed their golden years in the early 2000s, and are the only professional sports team in the Sacramento market. Before being located in Sacramento, they were in Rochester, NY--another relatively small market for a professional sports team. They are one of two teams in California with Kings as their mascot.
Betting on Los Angeles Lakers Odds
Los Angeles Lakers are likely on their way to a title soon. Having enjoyed a huge amount of success not too long ago, they are no longer burning so bright, but are still heavy contenders. Having had some of basketball's biggest stars, the Lakers are loved all over the country, with fans tuning in from all fifty states.
Betting on Los Angeles Clippers Odds
Los Angeles Clippers are almost always trailing behind the Lakers. They are still without a championship title. The Clippers share their arena with the Lakers, the Sparks of the WNBA and even a hockey team. Keep an eye out for this team as an up and coming super power.
MLB
California is home to five MLB teams, the Los Angeles Angels, Los Angeles Dodgers, Oakland Athletics, San Diego Padres, and the San Francisco Giants.
Betting on LA Dodgers Odds
The Dodgers have won six World Series titles in LA, and one in Brooklyn. This makes the one of the most successful franchises in the MLB. Their success has been spread out fairly evenly since their first win World Series win in 1955. This team is worth keeping an eye on.
Betting on Oakland Athletics Odds
The Athletics have won nine World Series. In fact, they are one of very few teams to have won a World Series threepeat: from, 1972-1974. While they are not always a favorite to win the World Series, it is a good idea to keep an eye on Oakland A's future odds, whatever the season.
Betting on Los Angeles Angels Odds
The Angels only won one back in 2002, making them the least successful of all the California MLB teams. No matter your favorite MLB team, there is no shortage of ball games for sports fans to bet on in the summer months!
Betting on San Diego Padres Odds
A member of the National League West Division, the San Diego Padres is the only team of the four major professional leagues representing the San Diego market. They are the only MLB team in California to have never own a World Series, but maybe placing a futures bet on this underdog is just what they need to make it all the way.
Betting on San Francisco Giants Odds
The San Francisco Giants moved to the West Coast from New York City and have been one of the most successful franchises in the MLB. Barry Bonds, Buster Posey, and  Dusty Baker have been some of the biggest stars to pass through this franchise.
NHL
The National Hockey League boasts three Californian teams: the Los Angeles Kings, Anaheim Ducks, and San Jose Sharks.
Betting on Los Angeles Kings Odds
The Kings were crowned Stanley Cup Champions twice in 2012 and 2014, thanks in large part to Darryl Sutter, the head coach. Gretzky, perhaps the best hockey player ever, is immortalized outside of their stadium.  Gretzky helped raise the popularity of the entire league across the Sun Belt.
Betting on Anaheim Ducks Odds
The Ducks won the tournament in 2007. This happened shortly after changing their name from the Mighty Ducks to the Ducks, and being under new leadership by Brian Burke. They were founded in 1993 by the Disney Corporation, and gained lots of fans with the hit movie The Might Ducks. They are one of the youngest teams in the league.
Betting on San Jose Sharks Odds
The Sharks have made it to the big show, but were unsuccessful in taking home Lord Stanley. Their first appearance in the Stanley Cup Final was in the 105/16 campaign, and they lost to the Pittsburgh Penguins.  The Sharks began their career playing in the Cow Palace before switching over to SAP Center.
In addition to all of these professional sports, there are many collegiate teams that play out of California including 11 division I college football teams, and 16 division I college basketball teams.
Is horse racing betting legal in California?
There are several horse racing tracks in California where you can go and bet on the horse races. The four horse racing tracks in California are:
Santa Anita Park
Del Mar Racetrack
Golden Gate Fields
Los Alamitos Race Course
The Breeder's Cup, one of the most important horse races in the world, is often held at Santa Anita Park just outside of Los Angeles.
However, many tracks have closed over the last decade or so, leaving Californians with fewer and fewer options for live horse races.
However, you can always visit the racebooks we recommend on this page. Californians can sign up and bet on all kinds of horse races, not just the ones that happen to be at the track.
What are the best fantasy sports apps in California?
Daily fantasy sports allow bettors to bet on fictitious teams. The biggest names in this sector are DraftKings and FanDuel. These sportsbooks do not offer the best odds on other types of sports bets.
California sports betting ballot initiative
This November voters in California will be able to decide the fate of sports betting in the state. Right now, the initiative does not allow for online sports betting. But it would open up the possibility for retail sports betting at tribal casinos.
There was another similar ballot initiative in 2020. But due to the Coronavirus pandemic, voters never got the chance to decide. So voters will finally have their voice heard. While we had to wait two more years, it looks likely to be approved. Maybe it would have been approved two years earlier.
The full name of the ballot initiative is "Authorizes New Types of Gambling. Initiative Constitutional and Statutory Amendment." A yes vote on the initiative support the legalization of sports betting, including professional and collegiate sports. Some other state do not allow college betting, but this particular initiative would.  
It would also enact an age minimum of 21 years to be on sports in California. Along with this would be a ten percent tax on profits from sports betting at racetracks. This revenue would then be distributed to different parts of the state government. Fifteen percent would go to the California Department of Health for mental health. Fifteen percent would go to the Bureau of Gambling Control. The rest, 70%, would go to the general fund.
The initiative would also open up the possibility for dice games and roulette at tribal casinos. However, in order for this to be implemented, the tribal compacts would need to be amended. It would also prohibit the marketing of sports betting and gambling to anyone under 21 years of age.
If this initiative is approved, California would join its neighboring states in being progressive on sports betting as well. California would also likely become the largest legalized sports betting market in the country, bringing in millions in revenue.
California Casinos
There are many Native American Tribal Casinos in the state of California - all of which could host sports betting in the near future.
| Casino | Phone Number | Address | City |
| --- | --- | --- | --- |
| Harrah's Northern California - Amador County | N/A | 4650 Coal Mine Road | Ione |
| Jackson Rancheria Casino - Amador County | (209) 223-1677 | 12222 New York Ranch Road | Jackson |
| Feather Falls Casino - Butte County | (877) 652-4646 | 3 Alverda Drive | Oroville |
| Gold Country Casino & Hotel - Butte County | (530) 534-9892 | 4020 Olive Highway | Oroville |
| Colusa Casino Resort - Colusa County | (800) 655-8946 | 3770 Highway 45 | Colusa |
| San Pablo Lytton Casino - Contra Costa County | (510) 215-7888 | 13255 San Pablo Ave | San Pablo |
| Elk Valley Casino - Del Norte County | (888) 574-2744 | 2500 Howland Hill Road | Crescent City |
| Lucky 7 Casino - Del Norte County | (866) 777-7170 | "350 North Indian Road | Smith River" |
| Redhawk Casino - El Dorado County | (888) 573-3495 | 1 Red Hawk Boulevard | Placerville |
| Mono Wind Casino - Fresno County | (559) 855-4350 | 37302 Rancheria Lane | Auberry |
| Table Mountain Casino - Fresno County | (800) 541-3637 | 8184 Table Mountain Road | Friant |
| Bear River Casino - Humboldt County | (1-800) 761-BEAR (2327) | 11 Bear Paws Way | Loleta |
| Blue Lake Casino - Humboldt County | (877) BLC-2WIN | 777 Casino Way | Blue Lake |
| Lucky Bear Casino - Humboldt County | (530) 625-4211 | Highway 96 | Hoopa |
| Cher-Ae Heights Bingo & Casino - Humboldt County | (800) 684-2464 | 27 Scenic Drive | Trinidad |
| Quechan Resort Casino - Imperial County | (1-888) 777-4946 | 525 Algodones Road | Winterhaven |
| Red Earth Casino - Imperial County | (760) 397-8144 | Hwy 86 & Black Diamond Rd | Salton City |
| Winnedumah Win's Casino - Inyo County | (760) 878-5160 | 135 South Highway 395 | Independence |
| Tachi Palace Hotel & Casino - Kings County | (559) 924-7751 | 17225 Jersey Avenue | Lemoore |
| Robinson Rancheria Resort and Casino - Lake County | (800) 809-3636 | 1545 East Highway 20 | Nice |
| Konocti Vista Casino - Lake Count | (800) 386-1950 | 2755 Mission Rancheria Road | Finley |
| Twin Pine Casino - Lake County | (800) 564-4872 | 22223 Highway 29 | Middletown |
| Diamond Mountain Casino - Lassen County | (530) 252-1613 | 900 Skyline Drive | Susanville |
| Chukchansi Gold Resort & Casino - Madera County | (866) 7-946-946 | 711 Lucky Lane | Coarsegold |
| Hidden Oaks Casino - Mendocino County | (707) 983-6896 | 76700 Covelo Road | Covelo |
| Sho-Ka-Wah Casino - Mendocino County | (707) 744-1395 | 13101 Nokomis Road | Hopland |
| Red Fox County - Mendocino County | (888) 473-3369 | 200 Cahto Drive | Laytonville |
| Desert Rose Casino - Modoc County | (530) 233-3141 | 901 County Road 56 | Altura |
| Thunder Valley Casino - Placer County | (916) 408-7777 | 1200 Athens Avenue | Lincoln |
| Agua Caliente Casino - Riverside County | (888) 999-1995 | 68960 E Palm Canyon Dr | Cathedral City |
| Augustine Casino - Riverside County | (888) PLAY2WIN | 84-001 Avenue 54 | West Coachella |
| Cahuilla Creek Casino - Riverside County | (909) 763-1200 | 52702 Highway 371 | Anza |
| Fantasy Springs Resort and Casino - Riverside County | (800) 827-2946 | 84-245 Indio Springs Parkway | Indio |
| Morongo Casino - Riverside County | (800) 252-4499 | 49750 Seminole Drive | Cabazon |
| Pechanga Resort & Casino - Riverside County | (877) 7112-WIN | 45000 Pala Road | Temecula |
| Soboba Casino - Riverside County | (866) 4-Soboba | 23333 Soboba Road | San Jacinto |
| Spotlight 29 Casino - Riverside County | (760) 775-5566 | 46-200 Harrison Place | Coachella |
| Tortoise Rock Casino - San Bernardino | (866) 377-6829 | 73829 Base Line Rd | Twentynine Palms |
| Havasu Landing Resort and Casino - San Bernardino | (800) 307-3610 | 1 Main Street | Havasu Lake |
| Barstow Resort & Casino - San Bernardino | N/A | I-15 off Lenwood Rd Exit | Barstow |
| Barona Valley Ranch Resort & Casino - San Diego | (888) 722-7662 | 1932 Wildcat Canyon Road | Ladeside |
| Casino Pauma - San Diego | (877) 687-2862 | 777 Pauma Reservation Road | Pauma Valley |
| La Jolla Slot Arcade - San Diego | (760) 742-0460 | 22003 Highway 76 | Pauma Valley |
| Golden Acorn Casino - San Diego | (619) 938-6000 | 1800 Golden Acorn Way | Campo |
| Harrah's Southern California - San Diego | (877) 777-2457 | 777 Harrah's Rincon Way | Valley Center |
| Jamul Casino - San Diego | (619) 315-2250 | 14145 Campo Road | Jamul |
| Pala Casino Resort & Spa - San Diego | (877) 946-7252 | 11154 Highway 76 | Pala |
| Santa Ysabel Resort & Casino - San Diego | (760) 787-0909 | 25575 Highway 79 | Santa Ysabel |
| Sycuan Resort and Casino - San Diego | (800) 279-2826 | 5485 Casino Way | El Cajon |
| Valley View Casino - San Diego | (760) 291-5500 | 16300 Nyemii Pass Road | Valley Center |
| Viejas Casino - San Diego | (619) 445-5400 | 5000 Willows Road | Alpine |
| Chumash Casino Resort - Santa Barbara | (800) 728-9997 | 3400 East Highway 246 | Santa Ynez |
| Win-River Casino - Shasta County | (530) 243-3377 | 2100 Redding Rancheria Road | Redding |
| Pit River Casino - Shasta County | (888) 245-2992 | 20265 Tamarack Avenue | Burney |
| Graton Resort and Casino - Sonoma County | N/A | Wilfred Avenue and Stony Point Road | Rohnert Park |
| River Rock Casino - Sonoma County | (707) 857-2777 | 3250 Highway 128 East | Geyserville |
| Rolling Hills Casino - Tehama County | (888) 331-6400 | 2655 Barham Avenue | Corning |
| Eagle Mountain Casino - Tulare County | (800) 903-3353 | 681 South Tule Road | POrterville |
| Chicken Ranch Bingo & Casino - Tuolumne County | (800) 75-BINGO | 16929 Chicken Ranch Road | Jamestown |
| Black Oak Casino - Tuolumne County | (877) 747-8777 | 19400 Tuolumne Road North | Tuolumne |
| Cache Creek Casino - Yolo County | (888) 77-CACHE | 14455 Highway 16 | Brooks |
| Hard Rock Hotel & Casino - Yuba County | N/A | 3317 Forty Mile Road | Wheatland |
Future of California betting
In this section, we go over some of the upcoming sports betting events in California.
When is sports betting in California likely to launch?
It is tough to say when sports betting will launch in California, but it is likely to be approved this November 2022. The exactly launch date thereafter will depend on how quickly the state can hand out licenses and the tribal casinos can get operations off the ground. This is likely to be in 2023.
Will there be online sports betting site in California?
There are currently many online sportsbooks available in California. Bovada, BetOnline, BetUS, and MyBookie are a few examples. Even after California legalizes retail sportsbooks, we would have to wait even longer for online sportsbooks to be licensed by the state. You can use these sportsbooks that are available in California.
How big is the California sports betting market?
California is easily the biggest sports betting market in the country. As the largest and wealthiest state, they also have the most major league sports teams. If legalized and regulated, it is estimated that California would generate more than $3 billion in tax revenue.
Future of betting in California
The future of betting in California will be decided in November. That is when we will know if tribal casinos will be able to host retail sports betting. Whatever the results from that ballot initiative
Top Online Sportsbooks for California
For new bettors looking to dip their toes in on an online sportsbook, we have great sportsbook reviews that can help you find a safe, secure, and easy-to-use place to bet on sports. Our reviews were compiled by experts and are honest because they use these sportsbooks themselves. Criteria reviewed include deposit options, bonuses, betting app, odds selection, sports offerings, and more.
Legal Sports Betting States