Latest
New York

Legal Betting Updates

May 18, 2023 10:08 AM
New York Sports Betting News
Before any of the new sportsbooks establishes themselves as the market leader in New York, you'll still find the best service from online sportsbooks like BetUS. You can log in to bet even when you're not in New York and the higher competition will make sure that you'll also get higher odds online.
With almost 20 million residents in the state of New York, it is one of the most heavily populated states, ad with more people, comes more chances for revenue. The revenue the state expects to draw from legalizing sports betting would be exponential, and they are already seeing over $9 million in tax revenue after just one year.
Online sports betting has yet to launch in New York, and the state could likely look at this post-coronavirus, as they are becoming desperate for revenue from the huge economic hit they took from the pandemic. Currently, many New Yorkers are driving across the George Washington Bridge to New Jersey, where online betting is legal, to place wagers from their phones.
It's estimated online sports betting would bring in $160 to $200 million dollars per year. Governor Cuomo doesn't seem to be the least bit interested in mobile betting, so we don't see this being legalized right away.
Currently, several tribal and commercial casinos offer sports betting, many of which have partnered with big names in the sports betting industry, like FanDuel, DraftKings, and Bet365. Four commercial casinos were given the green light to open sportsbooks, and any tribal casino has the right to do so as well.
Casinos have only been legal in the state for less than 30 years, and they just recently allowed for more commercial, Vegas-style casinos in 2013 that did offer some sports betting. There are now more than 25 casinos in New York, and a few racetrack casinos, including the home of the Belmont Stakes in Elmont, N.Y.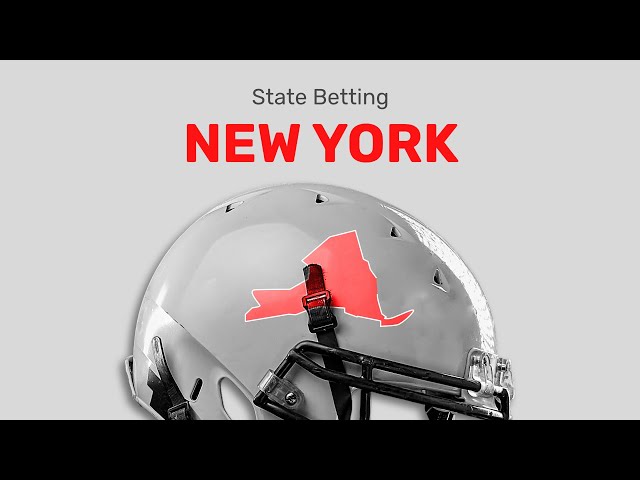 New York Sports Betting Timeline
New York was one of the first out of the gate when the different states had the possibility to open up their legal sports betting markets. Despite this, they still have not opened up online sports betting in the state.
2013-2019: A Very Early Start and Little More
Way back in 2013, the New York State Legislature opened up the possibility to legalize sports betting. However, it was not allowed under federal law at that point. Nevada had an official monopoly on sports betting at this point. The Supreme Court struck this down in 2018, which automatically triggered New York sports betting at the already established casinos.
After that, one would expect the state to be fast to open up online sports betting. However, Governor Andrew Cuomo was not hot on the idea. The first years after the possibility opened up passed without progress on the mobile sports betting front.
2020-2021: Approval Begins to Seem Likely
Cuomo has now begun showing big signs of support for opening up online sports betting. Many now consider it to be a done deal. In fact, the FY 2022 included revenue from this source, suggesting that the legislature plans on taking it up and passing it with due haste.
Right now the state Senate and House have introduced the same bill in both chambers. This would allow mobile sports betting, but they would have to be part of already established casinos. We expect this bill to pass shortly.
Can I bet on sports in New York?
Yes, sports betting is legal in licensed physical sportsbook venues in New York. There are several sportsbooks located in various commercial and tribal casinos around the Empire State. Mobile betting is still not available, however, if you don't want to drive to New Jersey to bet on your smartphone, you can sign up at online offshore sportsbooks.
However, as of April 2021, Governor Andrew Cuomo agreed with lawmakers to a budget deal that would provide statewide mobile sports betting, though the date is yet to be announced. The change in policy could bring a huge amount of additional revenue to New York.
| Sportsbook | Available In New York |
| --- | --- |
| FanDuel | ✅ |
| DraftKings | ✅ |
| Caesars | ✅ |
| FoxBet | ❌ |
| BetRivers | ✅ |
| BetMGM | ✅ |
| PointsBet | ✅ |
| UniBet | ✅ |
For now, you can use online sportsbooks in New York legally, without breaking any laws. You can sign up for an online sportsbook account from your phone or laptop, make a deposit and start betting within minutes. It's fast and easy, and it's like having a bookie in your back pocket.
In other US states, the situation of sports betting might be different.
New York Sportsbooks and Casinos
Upon legalization in July 2019, four commercial casinos were approved to open sportsbooks:
Del Lago Resort and Casino in Seneca County, partnered with DraftKings Sportsbook
Resorts World CatSkills in Sullivan County, partnered with Bet365 Sportsbook
Rivers Casino in Schenectady County, partnered with Rush Street and Kambi Group
Tioga Downs in Tioga County, partnered with BetFair US and FanDuel Sportsbook
Due to sports betting being a Class III gaming activity according to the National Indian Gaming Commission, tribal casinos are able to open sportsbooks at any of their venues. There are several sportsbooks at tribal casinos around the state of New York:
Akwesasne Mohawk Casino Resort, partnered with FOX Bet
Point Place Casino partnered with Caesars Entertainment
Seneca Allegany Resort and Casino Seneca
Buffalo Creek Casino Seneca
Niagara Casino Turning Stone Resort and Casino partnered with Caesars Entertainment
Yellow Brick Road Casino, partnered with Caesars Entertainment
You are also able to bet on sports at racetracks around the state, including Belmont Park, Aqueduct Racetrack, and Saratoga Race Course.
Betting on New York Sports Teams
Starting with the NFL, there are two teams based out of New York. The New York Giants and the New York Jets. Both teams play out of New Jersey, which is somewhat comical that fans have to drive to New Jersey to watch their home-state team. The Giants joined the league in 1925 and have won four Super Bowls, with the most recent and memorable being when they delivered a beatdown to the New England Patriot as underdogs.
The Jets, however, are one of the worst teams in the NFL and have only won one championship – in 1968.
When it comes to the MLB, the New York Yankees need no introduction. They joined the league in 1901 and have had some of the best players in the history of baseball suit up and make history. They have a whopping 27 World Series titles with their last one being a decade ago in 2009.
The New York Mets are the second baseball team in the state of New York. They are one of the first expansion teams in the MLB, joining the league in 1962. They've only won the World Series twice and are usually overshadowed by the Yankees.
The New York Knicks are a staple at Madison Square Garden, in New York City, and have quite the following in the NBA. They joined the league in 1947, and haven't won an NBA title since 1973. They likely won't be winning another one soon with the NBA stacking teams like the Golden State Warriors and the Lakers.
The Brooklyn Nets were established in 1967 in the ABA but recently rejoined the NBA. The Nets play in Brooklyn and have yet to win an NBA title.
In the NHL, there are also two hockey teams fighting for the love of the state. The New York Rangers are an Original Six team, play out of the glamorous Madison Square Garden, and have won the Stanley Cup four times.
The New York Islanders, on the other hand, joined the league in 1972 and dominated in the 80's – taking home four Stanley Cups in that decade. Today, both teams have struggled but the Rangers are definitely the stronger team present day.
Top Online Sportsbooks for Betting in New York
You can find countless online sportsbooks to wager at, but the question is, which one is best suited to your needs? There are so many features, while conversely, some have so many stipulations and rules. You need to think about what is important to you and find a book that has everything you need.
We have a comprehensive list of online sportsbook reviews that can help you make the right decision when choosing a sportsbook, like deposit options, bonus information, and mobile connectivity.
Check out the online sportsbook reviews and start betting in New York tonight.
Legal Sports Betting States