What's in it for you?
US-oriented sports book
One account access for all bets
Four level player reward program
WagerWeb Review
Summary of our WagerWeb Sportsbook Review - Bettors around the world can get the best by signing up with WagerWeb.com. Famous for their quality client care, same day payouts, mobile betting platforms and a full service casino and racebook, WagerWeb.com also boasts a fantastic bonus reward program!
Our WagerWeb Rating:
Sign Up Process

7.5/10

Bonuses

8.5/10

Website

6.5/10

Betting Options

8/10

Betting Odds

6/10

Live Betting

6.5/10

Customer Support

9/10

Payment Methods

8.5/10
Always been adaptive to U.S. bettors
Four level player reward program
One account access to all betting options
Rather high rollover rates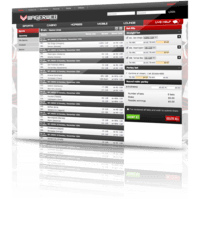 WagerWeb Sign-Up Bonus
GIMME THIS BONUS! - For bettors using a cash or money order deposit, a 50 per cent match bonus up to $1,000 can be had at WagerWeb!
Check out this bonus
WagerWeb Sportsbook Review
The Sportsbook at WagerWeb offers up the standard fare of sports for betting purposes, with an extremely North American flavor. All the usual suspects are here - NFL, MLB, NBA, NHL, and both NCAA basketball and football.
WagerWeb doesn't ignore the rest of the world, or the vast array of sports that are out there. You can also wager on tennis, boxing, NCAA hockey, auto racing, soccer, tennis, cycling, Canadian football, golf, arena football, women's basketball and mixed martial arts.
WagerWeb Sign Up Process

Don't you just hate it when you're excited to join a website, but then you get to the signup process and it's like writing a novel? WagerWeb.com's team apparently hates that too – their sign-up process is a breeze, and even available on mobile devices. Simply fill in the boxes with your standard information (address, email, etc.) and how you were referred (in case you want to hook up a friend) and you're ready to make a deposit and make good on with your winning wagers!

WagerWeb Bonuses

If there's one feature, in addition to customer service, that WagerWeb.com can hang its hat on, it's their unrivaled bonus offerings. For cash deposits (Money Transfers via such methods as Skrill or Western Union) members can choose from forfeitable or non-forfeitable options, and get up to an incredible 50 per cent bonus worth up to $1,000 – that's right, increase betting bankroll up to $1,000 before placing a single wager.

WagerWeb's Sportsbook Cashback bonus automatically credits your account every Monday. Pick their Elite Bonus program and receive one per cent cash back based on volume every week. So, win or lose WagerWeb gives you one per cent Cash Back Every Monday.

With WagerWeb's BustOut Bonus, if you deposit $100 or more within 24 hours and they will give you an extra five per cent added to your next deposit bonus for free. Select the Bonus that works best for you and get an extra five per cent free with no additional rollover requirements.

Via their Tenth Time's A Charm Bonus, your 10th deposit is free. Make nine deposits in a row without taking a payout and you'll get the 10th one for free. Your deposit amount will be the average of the last nine deposits.

WagerWeb offers five per cent cash back on losses in their casino every Monday and there's no rollover requirement.

WagerWeb Website

WagerWeb.com's website offers visitors and members alike a ton of useful information and helpful links to all of their products. If you're ready to jump right in, available lines are presented to the left of every page. While the overall look can seem a little jumbled, everything's right there on top, and a link to the Live Chat is always displayed. Though not the flashiest site we've ever seen, when you're as good as WagerWeb, substance is always more important than style.

WagerWeb Betting Options

In many ways betting options are a lot like ice cream: we all have our favorites, but sometimes we like to try something new. WagerWeb.com offers leading betting options for Canadian bettors. Whether you choose to stick with straight wager options like point spreads and money lines, or prefer to go the exotic route, you'll be well covered at WagerWeb.

They also offer popular betting options such as Reverses, If bets, Parlays and Round Robins, Teasers, Pleasers and even "Second Chance" Parlays, where the sportsbook will forgive a certain amount of losing picks in a parlay!

WagerWeb Betting Odds

When it comes to online sports betting, there are odds leaders (those who publish their lines by relying upon their own in-house odds makers) and odds followers (sportsbooks who follow what leaders publish). WagerWeb is somewhere in the middle.

While their published lines do follow the industry norms, they are not afraid to modify lines to the benefit of their customers, as their favorites routinely pay out increased odds, while juice for exotic wagers is lower than many sites we have reviewed. Major League Baseball lines however do tend to be rather high on the juice.

WagerWeb Live Betting

Preferring to focus more on the overall player experience WagerWeb.com does not offer many Live Betting options. On major sports, solid live lines are always offered. Live Casino and horse wagering is offered daily. Within the past year, WagerWeb has worked diligently to improve their live betting platform and the upgrade is noticeable.

WagerWeb Customer Support

How many times have you called a customer support center and been disappointed by the service you receive? Well, we're happy to report that WagerWeb.com's Customer Support department passed our rigorous testing standards each time we tested them. Their toll-free telephone staff are available during peak business hours, while they also offer a helpful Live Chat feature and informative Frequently Asked Questions section.

If you're looking for an answer to your questions, WagerWeb's Customer Support section has the answers one way or the other.

WagerWeb Payment Methods

In the pre-internet days, people looking to put down a wager on the big game could hand cash to a questionable sort of person, but now there's a better way. Canadian online gamers can now choose their favorite financial methods with WagerWeb. Accepted methods include: EZ Voucher, Western Union, Moneygram, Skrill (formerly Moneybookers), Bitcoin and Visa and MasterCard. Fees are relatively low and timelines are amongst the best we've reviewed.