Latest
Texas

Legal Betting Updates

Sep 27, 2023 09:27 AM
The latest sports betting bill did not pass the Texas state legislature. And because this state legislature only meets every other year, you can expect this state's sports betting licensing program to take longer than usual. Either way, online sportsbooks based offshore have been serving Texan bettors for decades! Continue reading here for the latestr legal updates and recommendations for the best sportsbooks available in Texas now!
Texas Sports Betting News
| State | Texas |
| --- | --- |
| ⚖️ Sports Betting Law Passed | No |
| 👶 Minimum Gambling Age | 21 |
| 🌐 Online Sports Betting | Yes |
| 📱 Mobile Sports Betting | Yes |
| 🏦 Retail Sportsbooks | No |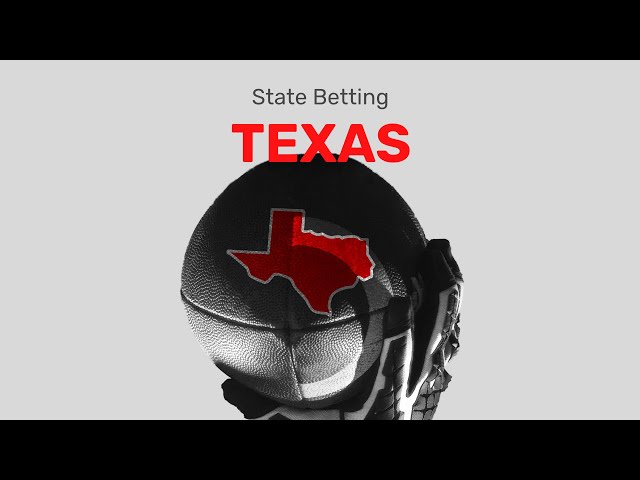 Best Online Sports Betting Sites for Texas
Here are the definitive best Texas sports betting sites available! You can sign up today!
Bovada
BetOnline offers a lifetime bonus guaranteed and continues to be one of the best Texan online bookmakers, partially due to being first in the industry to post their lines. As one of the leading US brands, Bovada has always had a drive to ensure customers get the most comprehensive betting experience on the continent. Get more for your money at this great bookmaker!
Sign Me Up To Bovada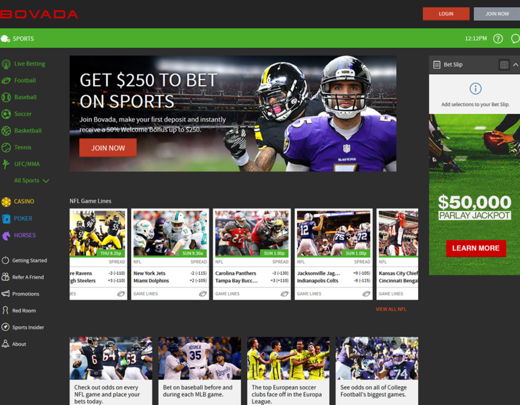 BetOnline
BetOnline offers a lifetime bonus guaranteed and continues to be one of the best Texan online bookmakers, partially due to being first in the industry to post their lines. On top of that, customers can navigate the endless sports betting markets via BetOnline's innovative mobile betting app, allowing customers to access the odds on-the-go!
Sign Me Up To BetOnline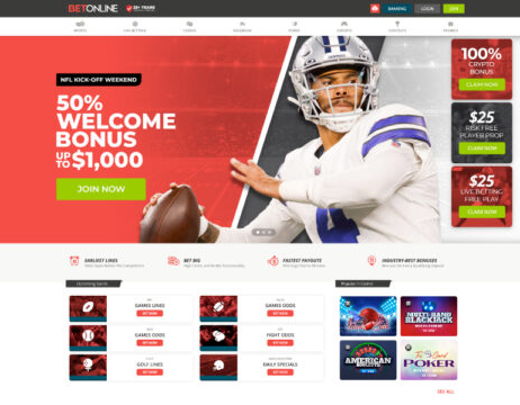 MyBookie
MyBookie offers three different signup bonuses to new Texas bettors. Their excellent customer service makes it even easier to bet from your mobile. On top of the great bonuses at MyBookie, you can find a broad range of contests, promotions, and seasonal bonuses, enhancing the betting experience and giving customers the opportunity to benefit from Free Cash and add a level of entertainment to their wagering experience.
Sign Me Up To MyBookie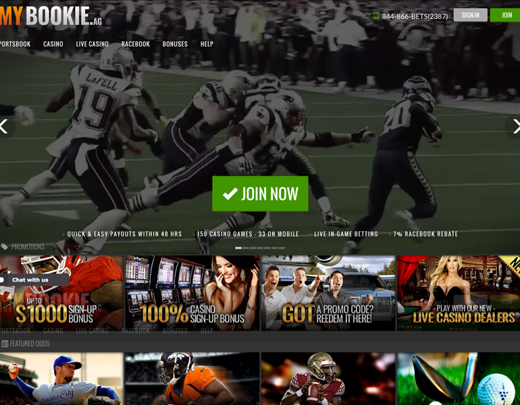 BetUS
BetUS has a great news section that really shows their commitment to the sport. This is perhaps why their lines are so accurate as they are published. Check out the full range of betting markets at BetUS, which include not just the major US leagues, extending to global markets such as European soccer, the FIFA World Cup, and Euro basketball. Get access to more betting markets with this unique US provider.
Sign Me Up To BetUS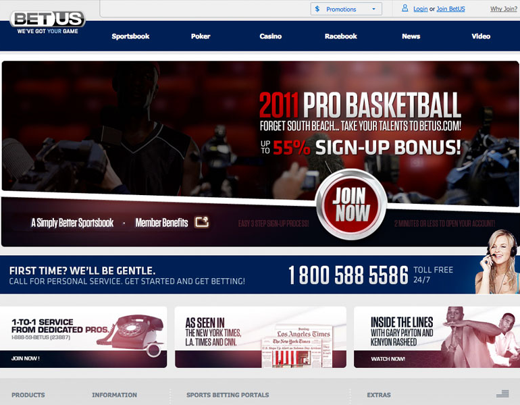 BetNow
Their great welcome bonuses become even better when you combine it with their reduced juice special. Just register your favorite basketball and football teams with BetNow, and you will get improved odds on those wagers. Don't forget that BetNow, is one of the more experienced bookmakers online and a large part of their success is down to ensuring customers receive the best support possible. You can be confident you're in safe hands this with this veteran online provider.
Sign Me Up To BetNow
*Residents of the Lone Star State won't be able to access the odds markets of major US providers such as DraftKings, FanDuel, and BetMGM, as the state continues to work out its stance on online sports wagering. The same goes for smaller providers like Caesars, PointsBet, BetRivers, Fox Bet, and Unibet.
Recent Texas NFL Betting Tips, September 2023
Patrick Mahomes has +600 odds to lead Kansas City to a Super Bowl LVIII victory.
At +1300 odds, the Dallas Cowboys are hopeful to win their first Lombardi Trophy since 1996.
Dak Prescott's +2500 MVP odds make the Cowboys QB a dark horse candidate.
Dual-threat Eagles quarterback Jalen Hurts enters at +800 odds to win the Super Bowl in his third NFL season.
Bengals rising star Joe Burrow sits at +1000 odds to take Cincinnati back to the Super Bowl after last year's surprise run.
Updated Texas MLB Betting Tips, September 2023
The +700 Houston Astros hope to repeat as World Series champions next season after winning it all in 2022. The Astros play their home games in Houston.
Lance McCullers Jr. has +2000 odds to win the 2023 AL Cy Young award with the Houston Astros. McCullers was born in Tampa but attended high school in Texas.
Ageless star Justin Verlander has +600 odds to win the AL Cy Young next season with the Astros. Verlander spent part of his storied career with the Detroit Tigers.
The Texas Rangers have +1000 odds to win the 2023 World Series. The Rangers are currently rebuilding after last winning the World Series in 2011.
Clayton Kershaw has +1200 odds to win the 2023 NL Cy Young award. Kershaw was born and raised in Dallas before becoming a star with the Dodgers.
Recent Texas NBA Betting Tips, September 2023
Luka Doncic has +550 odds to win the 2023-2024 MVP award.
LaMarcus Aldridge returned to the league to sign with the +4000 Brooklyn Nets after playing college basketball at the University of Texas.
The +25000 Houston Rockets will look for growth from young players like last year's #2 pick Jalen Green next season.
Jayson Tatum has +800 odds to win MVP next season after leading the Celtics to the Finals. Tatum played one year at Duke after growing up in Texas.
Deandre Ayton and the +650 Phoenix Suns will try to capture their first ever NBA title next season.
Is Sports Betting Legal in Texas?
The Texas State legislature has not passed any laws that would license retail sportsbooks in Texas. That doesn't mean that sports betting legalization won't arrive to Texas. A ton of great online sportsbooks like Bovada and BetOnline accept players from Texas, and what's even better, they'll even give you a sizable bonus if you start playing with them.
States are seeing billions of dollars heading straight into their economy since PASPA was overturned in 2018 and sports betting became legal, so why wouldn't Texas jump on the money train? Considering the difficulty of legalizing fantasy sports in Texas, we can only imagine how hard it will be to get politicians on board with legal sports betting.
What makes things a bit confusing is that many Texas politicians have come out supporting legalized sports betting in the Supreme Court.
Currently, there is a bill filed that would authorize and regulate sports betting including mobile sports betting, which would require a referendum to amend the constitution.
It is estimated that legal sports betting would add an estimated $1.7 billion to the Texas economy and create nearly 10,000 jobs. It's clear that Texas residents are betting on sports anyway, whether it's offshore or not, so why not regulate and legalize sports betting to reap those benefits?
Can I bet on sports in Texas?
Physically visiting a venue in Texas to place a wager isn't legal right now unless you head to the casino boat, but there are options for Texans who want to get in on the action. They are able to visit neighboring states who have legal sports betting, or sign up at an offshore online sportsbook where they can place a wager on the internet or through mobile sports betting.
A sportsbook can't be opened in Texas unless sports betting is legalized so betting on sports online at a safe and secure sportsbook is a great option for betting in Texas without even leaving the comfort of your own home.
Since the Supreme Court gave the United States the ability to legalize sports betting for themselves, new bettors are flocking to online sportsbooks to place their wagers and some don't actually understand that they aren't in fact breaking any laws. While Texas sports betting alliance may get legalize sports betting anytime soon, they can indeed still place bets and bet on football or any sport as long as they have an internet connection.
A Brief Timeline of the Legality of Texas Sports Betting
September 1, 2023 - Ahead of college football's first week, the AP Top 25 rankings see three Texas schools make the cut: Texas at #11, TCU at #17, and Texas A&M at #23.
August 2, 2023 - The National Indian Gaming Commission reported that revenue from gaming in the Oklahoma City area, including Texas, reached $3.1 billion for 2022-23.
June 11, 2023 - Rick Perry, the former Governor of Texas, disclosed his alignment with the Sports Betting Alliance, joining forces to achieve legalized sports betting in Texas by 2025.
May 5, 2023 - The progress of legal Texas sports betting bills HB1942, and others, continues as it clears the House Licensing and Administrative Procedures Committee and moves forward to the House Committee on Calendars.
February 28, 2023 - In January 2021, Ohio's legal sports betting was launched, with total wagers of over one billion dollars.
Texas Sports Betting Timeline
Texas has still not opened up its sports betting market. This could be a surprise given Texas's free-wheeling reputation. Let's take a look at some of the attempts over the years to get sports betting legalized in Texas.
2018-2020: No Go For Now
The first thing to know about these three years is that the Texas State Legislature only met during one of them. They do not meet during odd years, so 2018 and 2020 saw no prospect for finding sports betting legal soon.
But in 2019, Rep. Eddie Lucio introduced a house sports betting bill that would have legalized sports betting in the Lone Star State. Because Texas does not have any casinos at all, it would have only allowed for online legal Texas sports betting.
The bill was introduced by a Democrat, and the Texas Legislature is dominated by Republicans. Plus, it would need 2/3 of the legislature to put the measure on the ballot. This makes its prospects difficult in Texas.
2021 Sports Betting Alliance Makes a Push
The Texas Sports Betting Alliance was founded in February of 2021. This alliance is made up of five professional sports teams, and they are throwing their weight behind a change to the Texas Constitution.
These amendments would put sports betting up for a vote. This was Texas voters would be able to decide whether or not to allow for the opening up of sports betting legal markets in their own state. Its prospects are not bright, but the arrival of such a powerful alliance puts some air under their wings.
How to Bet on Sports in Texas
How to bet on football in Texas
Ever seen the movie Friday Night Lights? For anyone looking in from the outside, that can give you an idea of how important college football is in Texas. At these offshore sportsbooks, you can bet on both college and professional football. With so many great pigskin teams in the state, the rivalries are intense!
How to bet on basketball in Texas
Texas is littered with NBA teams, and we make sure the sportsbooks we recommend for betting in Texas have these covered. And not just straight up moneylines! They will also have spreads for the Houston Rockets and Over/unders for the Dallas Mavericks. No worries!
How to bet on baseball in Texas
The two biggest MLB teams in Texas are the Rangers and the Astros out of Houston. The Rangers are one of two statewide teams, but both of them have fans from all over the state. Considering how many professional players come out of Texas schools,  we know Texans want to bet on those player props from around the country.
How to bet on UFC in Texas
Texas is a tough, so it is no surprise just how many Ultimate Fighting and MMA fans there are there. One of the most popular UFC bets in the state method of victory wagers. You can bet if the fight will end via decision, KO, TKO.
How to bet on Boxing in Texas
Boxing in Texas is a big deal. If you want to dive deeper into Texas boxing betting, check out round bets. In this bet type, you can bet if the fight will be before or after a certain round.
Betting on Texas Sports Teams
Texas is full of professional sports teams. It is a huge state, and one that loves sports more than you would expect from other northern states. This bad boy has a lot to offer. Let's take a look at how to bet on all the different professional sports teams in Texas.
NFL
We assume you know all of the Texas-based teams where sports play such a huge role in communities, especially football. When betting on football, the options for sports bettors in Texas are the Dallas Cowboys and Houston Texans of the NFL, then 39 College Football teams including the Texas Longhorns, Southern Methodist, Baylor, Texas A&M, and Texas Tech to name a few.
The NFL games are scheduled on Thursdays, Sundays, and Mondays throughout the season, and sports bettors can find a wide range of games and options for each game. For College sports there is an even bigger betting selection as you can wager on any college football game on Wednesday, Thursday, Friday, and Saturday. Given the wealth of sports teams in the state, legalizing sports betting would be huge for fans, as well as companies in the industry.
Houston Texans
The Houston Texans compete in the American Football Conference's South Division. They play their home games at the NRG Stadium and were founded in 1999, making them a very young team comparatively. Their first decade did not bring good news to the adoptive city, but after that their fortunes turned!
Dallas Cowboys
One of the most legendary teams in all of the NFL, the Dallas Cowboys compete in the National Football Conference East Division. They play every Thanksgiving in one of the year's most watched games. They are frequently named by Forbes as the most valuable sports team in the world.
NBA
As for basketball – Texas hosts three NBA teams: The Dallas Mavericks, Houston Rockets, and the San Antonio Spurs. The NBA schedule is much denser than a football schedule, so you can expect to have plenty of Texas basketball betting opportunities throughout the NBA season.
College basketball is a popular betting option – especially in March during March Madness. Almost every Texas college sports team or university has a basketball team, including the Baylor Bears, TCU Horned Frogs, Texas A&M Aggies, and Houston Cougars.
Dallas Mavericks
The Dallas Mavericks play in the Western Conference Southwest Division, and they play their home games at the American Airlines Center. One of their most successful periods was in the 1980s, and another started in 1998 with the acquisition of Dirk Nowitzki. Unlike most teams, they had a great phase right after their founding in 1980.
Houston Rockets
The Houston Rockets play in the Western Conference Southwest Division and at the Toyota Center in Downtown Houston. The team was founded in 1967 and played initially in San Diego, until they moved to Houston in 1971, just four years later. Some of the most legendary names in all of basketball have passed through this roster: Charles Barkley, Yao Ming, James Harden, and Hakeem Olajuwon.
San Antonio Spurs
The San Antonio Spurs play in the Western Conference and the Southwest Division. The team was founded in 1967 as part of the American Basketball Association. They were one of four teams to remain intact after the merger into the National Basketball Association in 1976. They have been an extremely successful basketball over the years and have won several NBA Championship.s
MLB
As for baseball and the MLB, you are able to wager on the Houston Astros or the Texas Rangers during the spring and summer months. Baseball runs opposite many of the other popular betting sports, so it's common to bet on baseball during the football, basketball, and hockey off-season.
Texas Rangers
Based in the Dalls-Fort Worth area, the Rangers have aspirations to represent all of Texas. They are a member of the American League, West Division and play at the Globe Life Field in Arlington. They started out in Washington DC in 1961 and moved to Arlington in 1971, where they have been ever since!
Houston Astros
The Astros play in the same league and division as their fellow Texans: the AL West. They were first established as the Houston Colt .45s in 1962. They are now in the Astrodome and their name reflects the Johnson Space Center, where the famous "Houston We have a Problem" sounded. Since their founding, they have been a moderately successful team including a World Series win in 2017, two years before they were featured in the sign-stealing scandal.
NHL
While not overly popular, Texans are placing wagers on the NHL. They have only one professional hockey team to bet on: The Dallas Stars. Many Texans will parlay their football or basketball bets with an NHL game for some extra juice.
Dallas Stars
The Dallas Stars share a stadium with the Mavericks and compete in the Central Division in the Western Conference of the National Hockey League. They are the only NHL team in Texas. They only arrived in Dallas in the 1993-1994 season and have since been a successful team, including inducting brothers Derian and Kevin Hatcher into the United States Hockey Hall of Fame.
Best Daily Fantasy Sports Apps in Texas
Texans can safely and easily use Daily Fantasy Sports Apps. In Texas, you have plenty of options for DFS apps! These include the sports betting market leaders of DraftKings and FanDuels.  Texas is like many other states in that DFS is in a gray area. Because there is no law against them, they continue to operate, but this leaves DFS bettors in a precarious situation if they have to close down suddenly.
Texas Casinos
There are three tribal casinos in the state of Texas that offer casino games and are regulated by the Indian Gaming Regulatory Act. The hope is that any future Texas sports betting bills will result in legalizing sports betting in the state and in turn more casinos opening up in the future.
Kickapoo Lucky Eagle Casino is located in Eagle Pass and owned by the Kickapoo Traditional Tribe of Texas. The casino boasts slot machines, bingo, and poker tables with Limit Holdem, No-Limit Holdem and 7 Card Stud.
The Speaking Rock Entertainment Center is located in El Paso, owned by the Tigua Tribe of the Ysleta del Sur Pueblo. While it's not technically a casino, the Speaking Rock Entertainment center boasts high-stakes bingo and poker.
Naskila Gaming is located in Livingston and is owned by the Alabama-Coushatta Tribe. Naskila recently reopened in 2016, after being shut down by the state. They have over 365 bingo slot machines.
There is also a casino boat in Texas called the Jacks or Better Casino, based in Galveston. The ship cruises from the Galveston Yacht Basin twice a day, out to international waters where gambling is technically legal. The casino offers a sportsbook, 180 slots, and a variety of table games.
| Name | City | Type | Phone |
| --- | --- | --- | --- |
| Kickapoo Lucky Eagle Casino | Eagle Pass | Tribal | 830-773-2255 |
| Naskila Gaming | Livingston | Tribal | 936-563-2946 |
| Speaking Rock Entertainment Center | El Paso | Tribal | Closed |
Nearby states with online sports betting
Texas is a big state, so it has five states that border it.  Of these, four of them have given the green light to online sports betting licenses. These four are:
Louisiana
New Mexico
Arkansas
Colorado
The state that borders Texas without any sports betting legislation is Oklahoma. Many of these states are far away, given the vast expanse that is Texas. Instead of driving ten hours, you can always use the offshore Texas sportsbooks we recommend on this page. For those who prefer to bet within their own state, we will have to wait to see if Texas sports betting bills allow this in the coming years.
Top Online Sportsbooks in Texas
Sportsbooks that OnlineSportsBetting recommends are always reputable and safe. We've done the work vetting these sportsbooks and we provide honest reviews of each to ensure you make the right choice based on your sports betting needs.
Check other states you can bet in