Latest
Alabama

Legal Betting Updates

Nov 27, 2023 12:23 PM
Alabama is on the long list of states that have yet to legalize sports betting. This comes as no surprise as Alabama has always had a strict stance on any type of gambling, especially on sports. They have no state lottery, no horse racing tracks, and only one Native American tribe (Poarch Band of Creek) with permission to own and operate casinos within state lines. State Senator Greg Albritton has declared his goal of advancing state gambling legislation in 2023.
For now, your best options for sports betting in Alabama are online sportsbooks like Bovada and BetOnline.
Alabama Sports Betting News
| State | Alabama |
| --- | --- |
| ⚖️ Sports Betting Law Passed | No |
| 👶 Minimum Gambling Age | 21 |
| 🌐 Online Sports Betting | Yes |
| 📱 Mobile Sports Betting | Yes |
| 🏦 Retail Sportsbooks | No |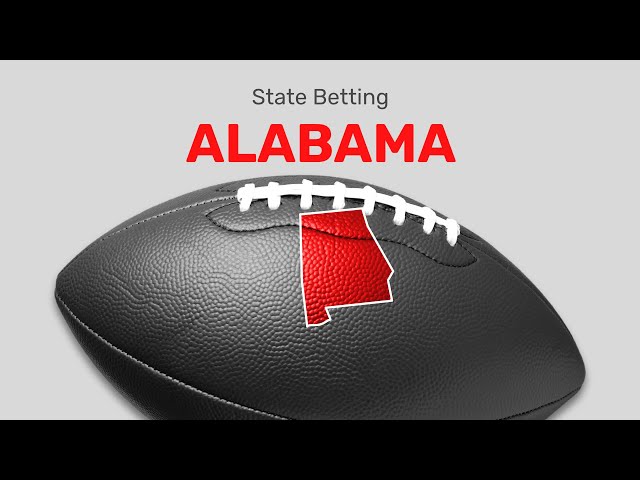 The Alabama Criminal Code is quite explicit regarding gambling for profit, bookmaking, and lotteries. Consequently, sports betting in Alabama remains prohibited and isn't likely to be legalized anytime soon. While an elected official, Jim Ziegler, supports the idea, the majority of lawmakers are hesitant.
Potential Benefits of Legal Sports Betting
What would legalizing sports betting mean for Alabama? The proposed bill aims to establish the Alabama Sports Wagering Commission, with a proposed 10% tax on gross revenue. It also offers seven licenses to any pari-mutuel wagering facility, allowing mobile betting within state borders.
Past Attempts and Current Challenges
Despite four attempts to pass sports betting legislation as of April 2020, none have progressed far enough for a vote. HB301, introduced in February 2020, remains in committee, but the ongoing impact of COVID-19 makes it a low legislative priority, especially with the absence of sporting events.
Focus on Industrial Growth
Many politicians and lawmakers prioritize Alabama's industrial growth over legalizing gambling to boost state revenue. Unfortunately, this means that the money Alabama sports bettors wager often ends up funding other states' economies.
Hinging on Mississippi's Experience
Alabama's best hope for legalized sports betting may depend on Mississippi, its neighboring state. Mississippi has embraced sports betting for over a year, and Alabama is closely observing the outcome before considering legalization within its own borders.
Best Online Sports Betting Sites for Alabama
We have gathered the very best online sports betting sites for Alabama! We have known these online bookies for years, and they provide a perfect fit for Alabama bettors:
Bovada
Bovada is the best overall sportsbook in Alabama. It is legally available for bettors in the state of Alabama. It has been around for a long time while upholding its grand reputation. If you prfioritize reputation and trustworthiness, then Bovada will be a great choice for you. They have earned this reputation by delivering on their withdrawals, their bonus terms and conditions, and more! Sign up here today to find what everyone is talking about.
Sign Me Up To Bovada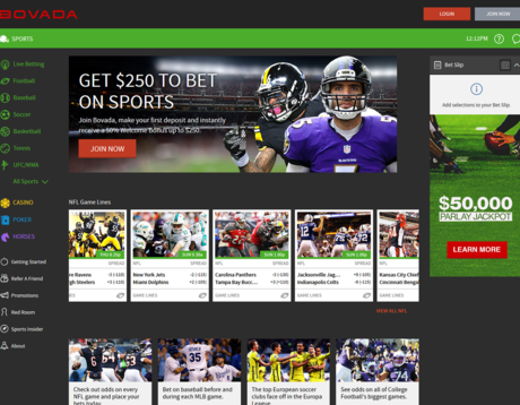 BetOnline
The sports markets and betting odds at BetOnline are enough to excite novice bettors, but also to keep expert Alabama bettors engaged in the long run. We love the odds here because they are competitive, so we can make a profit, without being too good to be true. Plus, their sports betting markets cover big sports like football, but also zoom in to more niche sports such as cricket and curling. You can have plenty of fun at this complete Alabama sportsbook!
Sign Me Up To BetOnline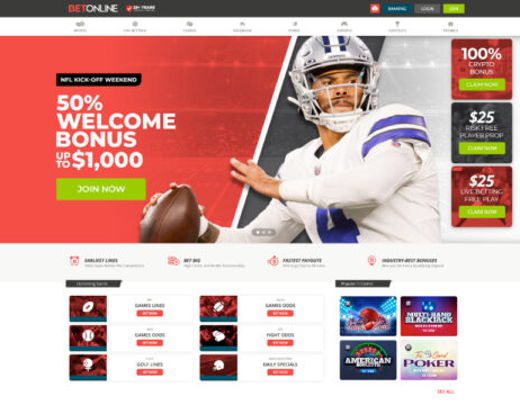 BetUS
BetUS has great bonuses and promotions! Their sportsbook welcome bonus is quite large. At 125% match worth up to $2,500, there are few that can compare. Deposit with Bitcoin and your welcome bonus can be worth more than seven thousand. Take this into account along with their rewards program and refer-a-friend promotion, and you can begin to see why we love this Alabama sports betting site.
Sign Me Up To BetUS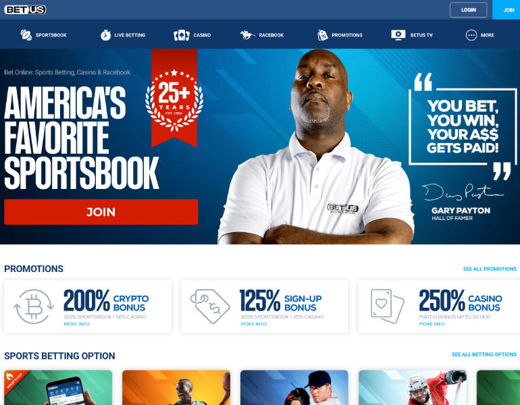 GTBets
GTBets is a great sportsbook for any Alabama bettor, but this is especially the case for fans of football and basketball. Why, you ask. Two words: reduced juice. Register your favorite football and basketball teams with your GTBets account, and they will give you even better odds when you wager on them. This goes for college and professional leagues!
Sign Me Up To GTBets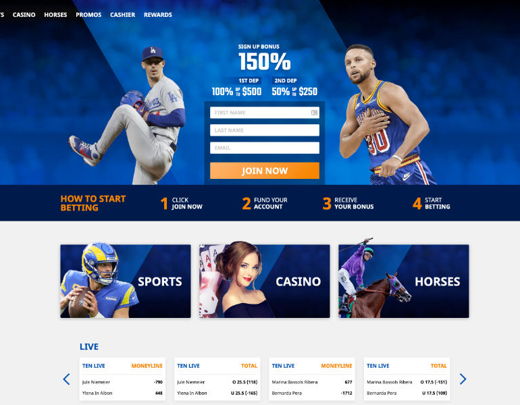 MyBookie
MyBookie is a great mobile sportsbook. When designers create a great mobile sportsbook, then you know that their desktop sportsbook is also going to be a great experience. Betting on the go is a great way to find the best betting opportunities and be able to make the most of them whenever they arise. More and more bettors in Alabama are logging on via their mobile device, so this site is gaining in importance.
Sign Me Up To MyBookie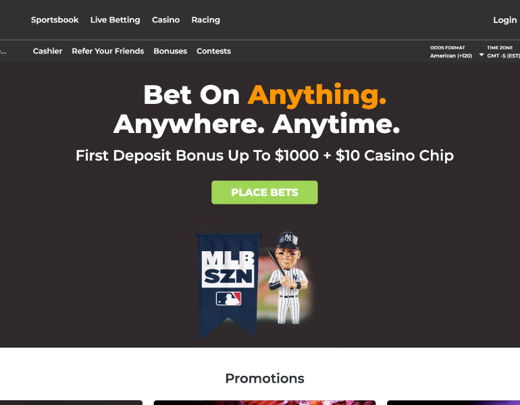 *By the way, you can also see other major sports book providers like DraftKings, FanDuel, and BetMGM available in the states across the UK. But they aren't offered here in Alabama. Neither are other US bookmakers like Caesars, PointsBet, BetRivers, Fox Bet, and Unibet. 
A Brief Timeline of the Legality of Alabama Sports Betting
November 3, 2023 - The big Alabama-LSU game this weekend should attract lots of sports betting attention in Alabama due to potential SEC title and playoff implications.
July 4, 2023 -  Alabama baseball coach Brad Bohannon was dismissed after a suspicious bet on an Alabama-LSU baseball game in Cincinnati was reported and flagged by a sportsbook operator and U.S. Integrity.
June 11, 2023 - Significant discussions unfolded among lawmakers in Alabama during the 2023 legislative session as they explored the possibility of enacting legislation to legalize sports betting apps in the state.
May 4, 2023 - Should the legislation to legalize sports betting in Alabama continue to gain traction within the legislature, there is reason to believe that Governor Kay Ivey will sign it into law.
February 19, 2023 - The 2023 Alabama sports betting scene shows signs of improvement as judges support new policy reforms.
January 27, 2023 - Eleven individuals have been indicted by a federal grand jury for their alleged involvement in an illicit sports betting ring worth millions of dollars.
Alabama Sports Betting Timeline
Alabama has not yet been able to pass regulations around sports betting. Bettors in Alabama can use offshore sportsbooks without any problems. These often have been deals than state-based sportsbooks.
Several Bills Failed to Grab Traction
In every year since 2018, when federal law changed to allow states to legalize sports betting, someone in the Alabama legislature has introduced a bill to do just that. However, none of them have gained much footing.
In 2019, HB 315, and in 2020, HB 336 would have legalized sports betting in the state. They were both structured very similarly, and, unsurprisingly, both died on the committee.
The 2021 bill was a whole collection, an omnibus. In addition to sports betting, it would have launched an Alabama State Lottery and established casinos. The Senate approved it, but the House did not even take it up. Bettors in Alabama will have to wait until things change a bit.
Alabama continued to fail to license its own local sportsbook in 2022 although sports betting allies have promised to push even harder in 2023.
Is sports betting legal in Alabama?
While there are no legal, physical sports betting venues in Alabama due to strict gambling laws, there are viable options available to Alabama sports bettors in the form of offshore sportsbooks. This allows bettors to participate from the comfort of their own homes, eliminating the need to cross state lines into Mississippi to place sports bets.
Offshore Betting Sites
Although a physical sportsbook cannot operate in Alabama, online sportsbooks are the most appealing alternative. This way, you can comfortably bet from home without violating any laws. Notable online sportsbooks like Bovada or MyBookie offer US sports bettors secure SSL connections and a wide range of betting choices.
Online sportsbooks have been a trusted choice for bettors for many years, so newcomers need not be concerned about the legitimacy or security of these betting sites. We maintain a dedicated section of sportsbook reviews, personally using and recommending only trustworthy and legitimate sportsbooks.
Betting on Alabama Teams
There's no question that Alabama residents love their sports. While they don't host any professional league teams in the NFL, NBA, MLB or NHL, they do have some great collegiate teams that perform quite well in NCAAF football and NCAA Basketball, such as Alabama Crimson Tide, Auburn Tigers, and Alabama State Hornets are all very well-known and appreciated in the state.
Given such a passionate fanbase in the state, particularly at the collegiate level, it's not overly surprising that sports betting isn't legalized yet. Many frown upon betting on NCAA sports in Alabama, and considering the overall strictness surrounding gambling, it may be a few years before residents can hope to bet on any of their hometown teams.
Betting On Alabama Crimson Tide
While Alabama does not have any professional sports teams based in the state, they are the proud home of the Alabama Crimson Tide. Betting on college football  can be just as profitable. This team is always on the cutting edge, so keep an eye on them for futures such as the National Championship or the big Bowl games in December.
Alabama Casinos
There are only a few casinos in Alabama, with electronic bingo machines and greyhound simulcast wagering offerings.
| Casino | City | Phone | Type |
| --- | --- | --- | --- |
| Victoryland | Shorter | 1 334-727-0540 | Racino (greyhound) |
| Wind Creek Casino & Hotel Atmore | Atmore | 1 866-946-3360 | Native American |
| Wind Creek Casino & Hotel Montgomery | Montgomery | 1 866-946-3360 | Native American |
| Wind Creek Casino & Hotel Wetumpka | Wetumpka | 1 866-946-3360 | Native American |
What to look for in an online sportsbook
For new Alabama bettors, we want to help guide you to a safe and reputable online sportsbook. Here, we have some great sportsbook reviews that were compiled by our experts. These reviews will guide you through all the criteria you should look for when selecting an online sportsbook for betting in Alabama.
Expert Recommendations for Your Safety
Sportsbooks that OnlineSportsBetting recommends are thoroughly vetted, safe, and secure. Our team personally has used these sportsbooks, and we provide honest reviews of each. With our guidance, you can make the right choice based on your sports betting needs.
Prioritizing the Right Odds
First and foremost, choosing an online sportsbook with the odds you want to bet on should be your main priority. If you are specifically looking for Crimson Tide basketball odds, ensure that you find the best juice. Keep in mind that not all sportsbooks have the same lines. Therefore, comparing sites and making sure you find the best NCAA Basketball odds specific to the team you want to bet on is one of the most important first steps you can take."
How to bet on sports in Alabama?
How to bet on football in Alabama?
There are no professional football teams in Alabama, but this does not mean football betting in the state is irrelevant. Not by a long shot. The NFL continues to be an important betting market, with teams from Atlanta and Texas attracting large fan groups. College football teams like the Crimson Tide also bring in huge national audiences!
How to bet on basketball in Alabama?
Betting on basketball in Alabama is a similar story to betting on football. There are no professional basketball teams in the state, but college basketball continues to be a big pull. Once again, Crimson Tide is the big boy on the block. Keep an eye on them during March Madness.
How to bet on baseball in Alabama?
Alabama has tons of baseball fans, but they will have to bet on teams from out of state. This is no problem! With all the big teams in Texas and across the South, Alabama fans have plenty of teams to root for. Plus, the best betting opportunities in Alabama may be for teams that are across the country.
How to bet on UFC in Alabama?
The UFC is a hugely popular sport in Alabama. Even if they do not host many Octagon matches in the state, people are able to tune in via Pay-per-view or watch the results on live betting platforms available in the state. Method of victory bets are wagers that are unique to these types of sports, where you can decide if they will win by decision or KO.
How to bet on boxing in Alabama?
Boxing is a lot like UFC and MMA when it comes to betting in Alabama. Even though the fights are held elsewhere, boxing has lots of fans in Alabama. Try round betting, in which you decide if the fight will go beyond a certain number of rounds. This is a good way to make even blowout matches profitable.
Best Daily Fantasy Sports Apps In Alabama
Daily Fantasy Sports apps are legal in the state of Alabama. The top ones are FanDuel and DraftKings. In fantasy sports, you can create your own team from professional athletes, while remaining under a certain salary cap. This is a new way of gambling and competing against others. This is different from other sports betting in that you have to create your own team and it takes much longer to even get started.
Nearby States with Online Sports Betting
Even though sports bettors in Alabama can access offshore sportsbooks without a problem, if you want to use retail sportsbooks, you have some nearby options. Tennessee and Mississippi have fully operational licensed sportsbooks.
Legal Sports Betting States