Well, at least we know the Devil didn't make them do it. [+]
They shortened their nickname from Devil Rays in 2008. This American League East team has seen it all! Check back here often to see what is coming over the plate for this Florida team.
Tampa Bay Rays Next Regular Season Game
Do you know who the Tampa Bay Rays next regular season game is against? Check out the multi-info widget below and you will do in a matter of seconds. [+]
They came out on top of the AL East last year, making them fgreat prospects for 2022.
My Team's Next Match
Tampa Bay Rays
Tampa Bay Rays Game Schedule
Be sure to study the Tampa Bay Rays full 162-game schedule and see if you can find some value bets that stand out from the crowd. Look out for the games versus the Rays local rivals the Miami Marlins, who they play in the Citrus Series against; the games are always a great spectacle. [+]
What Are The Current Tampa Bay Rays Standings
With their small-market approach, the Rays must build from within. [+]
The good news is they have several top prospects on the cusp of becoming big leaguers. The bad news is that once those players develop into stars, Tampa Bay can't afford to pay them and deal these players away.
Where Can I Bet On Tampa Bay Rays Online
Make sure that you sign up to a sports betting site that offers you a sign-up bonus, market leading MLB odds, and the chance to bet on the Tampa Bay Rays online. The table below shows you several such sites, pick one, pick two, or choose them all, it is up to you. 
Tampa Bay Rays Online Betting Tips
Thought they've a second-tier team in the AL East, the Rays do have some stars. Third baseman Evan Longoria is among baseball's most consistent sluggers. You can pencil him in for 30 homers and around 100 RBI every season.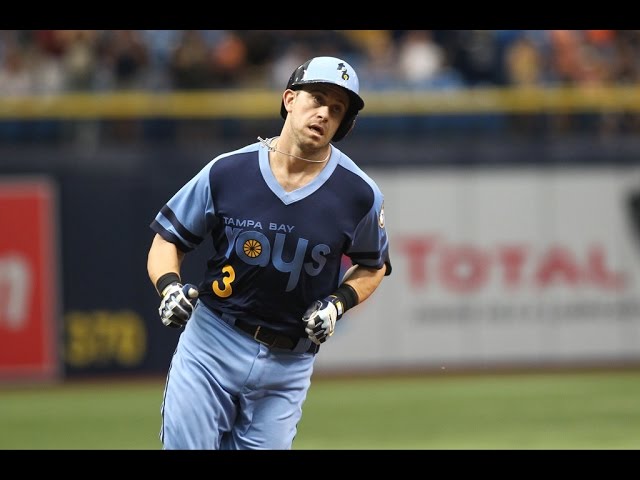 Pitcher Chris Archer is the ace of their staff. He posted a 3.11 earned run average over his last 11 starts last season but was frequently victimized by a lack of run support.
Centerfielder Kevin Kiermaier is one of the best defensive players in baseball, posting a 12.8 WAR over the past two seasons that was 52 per cent higher than any other Rays player. The Rays went 14-34 while Kiermaier was out with a broken wrist.
Let's Not Talk About the Rays Bullpen
The Tampa Bay relievers suffered the most losses and surrendered the most ninth-inning home runs of any team in the AL in both 2015 and 2016. The 42 saves posted by the Rays bullpen was 11th overall in the league. 
More teams