Themed hotels are dime a dozen in Las Vegas. But luxury themed hotels? That's a different racket altogether. They are fewer and further between, which paves the way for a truly unique experience. That brings us to our Lagasse Stadium Sportsbook Review, which is inside the Palazzo Hotel located within the Venetian resort.
Like the other two sites on property—the Venetian itself and the Sands Expo Center—the Palazzo is modeled after Italy from top to bottom. And we mean everything. The rooms, the lobby, the Lagasse Stadium sportsbook, the casino—there's a touch of italy everywhere.
It all amounts to a one-of-a-kind Vegas stay. But is it also for you? That's what we're here to help you figure out.
The Lagasse Stadium Sportsbook Experience
Although the Palazzo's sportsbook is among the resort's headlining attractions, there is so much more to it than that. Because it's attached to the Venetian, guests have access to all different sorts of amenities and perks, both at the casino and hotel levels. We're going to tackle the most important.
Pros of Palazzo Hotel & Casino
Connected to the Venetian
Sportsbook with 600 seats
Access to Grazie Rewards Program
Cons of Palazzo Hotel & Casino
Located nearly off The Strip
One of Vegas' highest resort fees
A lot of the best perks entail going to the Venetian
Lagasse Stadium Sportsbook Hours of Operation
Monday-Thursday: 9:30 a.m. to 10 p.m.
Friday: 9:30 a.m. to 11:30 p.m.
Saturday: 8 a.m. to 11:30 p.m.
Sunday: 8 a.m. to 10 p.m.
Location of Lagasse Stadium Sportsbook
The location of the Lagasse Stadium sportsbook is among its biggest drawbacks. Yes, they technically have an address on The Strip, at 3325 South Las Vegas Boulevard. But like the Venetian and Treasure hotels, the Palazzo is at the northernmost end of Sin City's primetime stretch.
This isn't a huge problem when figuring out transportation. Travel to and from the McCarran International Airport should only take between seven and eight minutes by shuttle and car during normal traffic hours. Navigating the rest of The Strip is a real pain.
If you want to check out some of the hotspots at the southern end, like New York-New York and Mandalay Bay, forget about walking. You'll need to take a taxi or rideshare. Even getting to the center of The Strip can be pain. Certain hotels are still within walking distance, but if you're trying to get to the Planet Hollywood/Paris hotel areas, you're probably still too far away to make the roundtrip on foot.
Staying so far down one end of The Strip might tempt guests to rent a car. We wouldn't endorse it. The Palazzo does have free self-parking for guests, but getting out of the garage and onto the main part of The Strip can be a hassle. You're bound to sit in a few minutes of traffic, and then you still have to deal with potentially peak busy hours once you start traveling south.
Renting a car is slightly more sensible if you plan on doing any excursions that take you well off The Strip. Otherwise, we'd strongly recommend getting around by taxi and rideshare.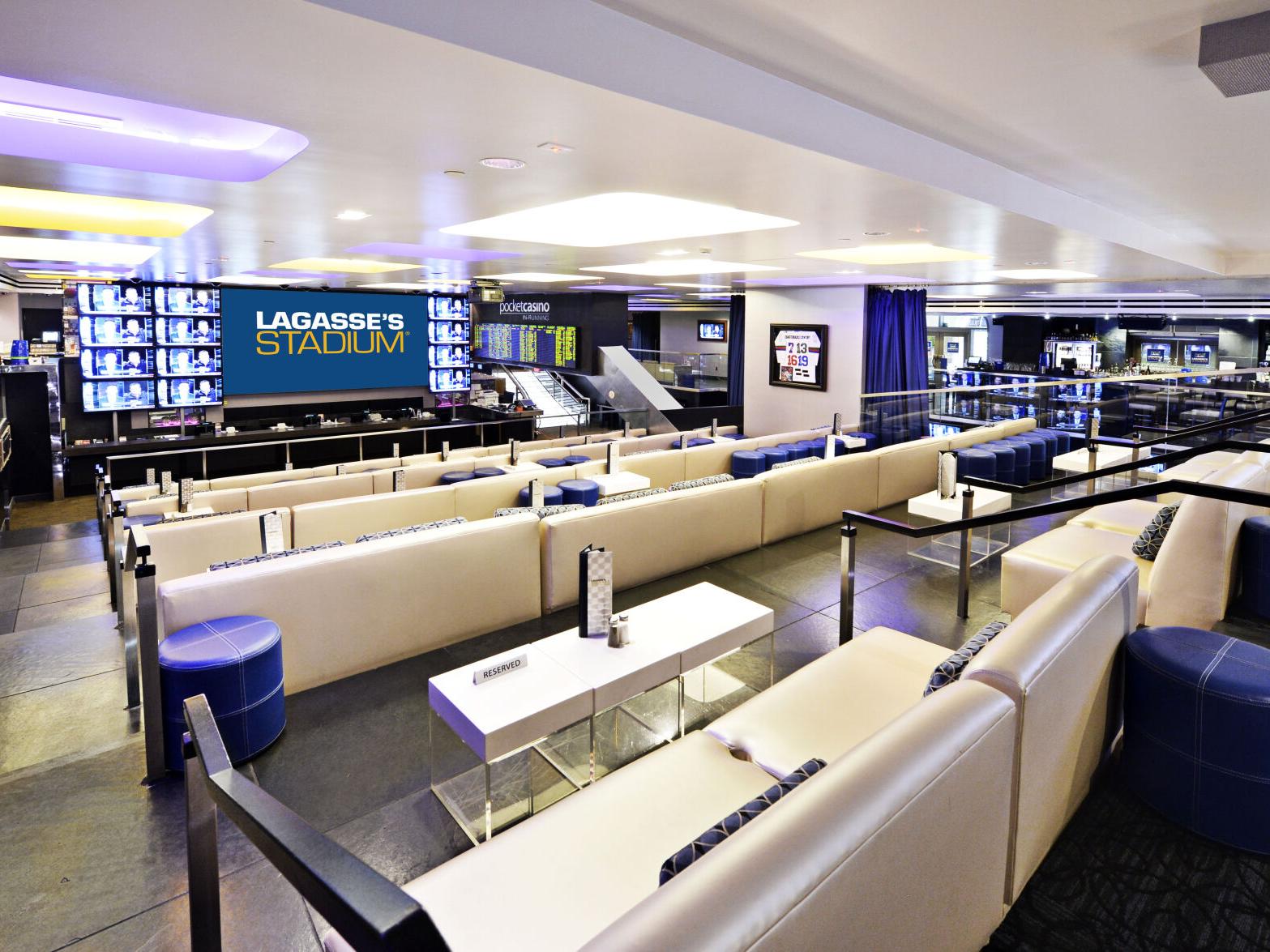 Place Your Bets at the Lagasse Stadium Sportsbook
The Lagasse Stadium Sportsbook at the Palazzo effectively lives up to the name. It implies a bunch of seating with multiple levels, and well, that's exactly what you get.
Up to 600 people can get their own spots at the sportsbook, where they can watch the latest live sporting events across 100 different HD TVs—including a monstrous 9 x 16 foot screen placed at the center of everything. Coming here is like entering a small-arena-sized living room. You're going to love it.
Refreshment accommodations at the Lagasse Stadium Sportsbook are unfortunately in flux at the moment. The name might be, too. It is a nod to famous chef Emeril Lagasse, the owner of the bar and grill within the sportsbook. However, he has decided to close down shop following the coronavirus pandemic, and it isn't clear what will be installed in its place yet. 
Rest assured, some type of bar and grill will be subbed in. The Palazzo needs it to maximize the sportsbook experience. Bettors want to eat and drink when they're hanging around watching sports, and the themed meals that were served at the grill during college football and NFL games were a big hit.
One thing that won't change at the Palazzo: The ease with which you can place your bets. The Lagasse Stadium Sportsbook hours of operation are structured to maximize earlier lines on the weekend, though you should be prepared for 30 to 60-minute delays for lines to post after opening.
Despite the size of the sportsbook, it is also a great place to catch some of the larger sporting events—the Super Bowl, college football National Championship, pay-per-view boxing matches, etc. The number of seats implies it will be filled to capacity during those competitions, but the Lagasse Stadium has the space to accommodate massive crowds without making it feel like you're on top of one another.
If you're not into navigating a potentially crowded sportsbook, the Lagasse Stadium is underwritten by Canter Gaming, which gives you the ability to sign up for the CG Technologies sportsbook app. You can't use this app when you're outside Nevada, but it's a great way to remotely make deposits, place bets, and withdraw winnings.
And if you're not going to Vegas anytime soon, that's no biggie. You can still scratch your sports-betting itch by signing up at one of the top online sportsbooks listed below:
These top-rated US sportsbooks also offer casino games and a racebook online. Not only you can play your favorite poker, roulette, slots, bingo, keno, craps, and other Vegas games online but you can also place some money on the horses. Check them out!
The Palazzo Casino
Guests of The Palazzo really are spoiled. Not only are they a short distance away from the Venetian's 110,000 square foot casino, but there's another 105,000 square-foot casino under the Palazzo's roof itself.
Just so we're clear: That's absurd.
The setup of the Palazzo casinos differs from the Venetian with its modern theme. They have a lot of electronic table games mixed in with the live-dealer tables. Both casinos, meanwhile, are stacked to the high heavens with slot machines and virtual options.
Drinks on the casino floor are technically free, but not fully. Like the Venetian, the Palazzo runs on the voucher system. You will get one free drink after you wager $20 and must continue playing at tables to continue receiving more. Either way, if you want any of the top-shelf liquor or imported beers, you'll need to pay extra for them.
As a guest of the Palazzo, you will have access to the Venetian's Grazie Rewards program. Registration is completely free, and they will run specials throughout the year that typically give you various amounts of credits to use on slot machines. Upon enrollment, you receive a card that racks up points whenever you place bets on slots or at one of their table games. You do not earn credit for using their sportsbook.
Rewards points can be redeemed for any number of things, depending on how many you have. The most common benefits are discounted room rates, free bets, and event tickets.
Staying at the Palazzo
For the most part, the Palazzo is a suite-only hotel. And they have a lot. They tout over 3,000 of these standard suites, which feature modern Italian decor and are extremely spacious.
These accommodations don't come cheap. Rates at the Palazzo typically don't fall below $159 per night, and you will be subject to a $45 daily resort fee. If you go during one of Vegas' peak seasons, you should be prepared for your stay to average out to over $300 a night.
The Palazzo tries to make the price worthwhile by loading up the resort with restaurants and shops. They have more than 10 of their own restaurants, plus you can head over to the Venetian, where they have an even larger selection of eateries. 
Their collection of shops almost feels like a mall, and it draws in guests at the Venetian in droves. It's not hard to see why. The list of stores on the premises include Van Cleef & Arpels, Diane von Furstenberg, Chloè, Christian Louboutin, Catherine Malandrino, Anya Hindmarch, Charriol, Barneys New York, La Fortuna, Café Presse, Palazzo Pool Shop, and Art of Shaving inside the Apothecary.
Your entertainment options are the same as what's available to Venetian guests. They offer a bunch of different shows, including the Blue Man Group, and play host to many comics over the course of the year. They don't have a classic Vegas nightclub, because they don't cater to that clientele. But they do have lower-key and upscale scale bars at which to hang.
There really isn't anyone who won't enjoy a stay at the Palazzo. The distance from the center of The Strip can be annoying, but with so much to do within the Venetian compound itself, the seclusion from the rest of Sin City is hardly a downfall. Only the price per room stands to be prohibitive. If you can get past that, you're guaranteed to have a grand ol' time.