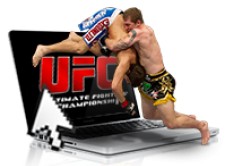 The Ultimate Fighting Championship has produced some of the world's best mixed martial artists since being founded in 1993. It held its first ever even in November 1993 in Denver, Colorado. As of 2017, the franchise has hosted more than 400 events worldwide as it has become a multi-billion-dollar enterprise. The UFC is also steadily growing into one of the most bet on sports in the world today. It was online sportsbook Bodog — a sister company of Bovada.lv — which said in 2007 that UFC surpassed boxing in terms of betting revenues for the first time in history. It's not just a men's combat sport either. Ronda Rousey revolutionized mixed martial arts during her rise to No. 1 in the bantamweight division.
Best UFC Betting Sites
Whether you're looking to your money on an upcoming UFC event or committing to a longer-term fantasy season, the options are limitless for bettors.
Bovada.lv — a leading online sportsbook — has several UFC betting options as it offers odds for every televised and pay-per-view event. Bovada is mobile friendly and also offers live betting. Signing up with Bovada is effortless as all that's required is a username, password and other account information. Newcomers to the site can receive a $250 welcome bonus just for signing up before betting on UFC bouts. There are also a couple fantasy sports betting sites that have gained popularity over the last few years, especially in the world of UFC wagering. DraftKings.com is one of the leading fantasy sports betting sites and offers daily MMA leagues. Bettors are required to pick six fighters for an upcoming bout with a "salary cap" of $50,000. A first-round knockout win will gain bettors more points than a fighter that wins by decision.
Wagering on the UFC Events Online
Betting on Ultimate Fighting Challenge events online has never been easier. Popular online sportsbook BetOnline.com simplifies the process even greater as it lists all of the upcoming UFC events along with the odds for each bout. Regardless if the event is a cable televised event or a major pay-per-view card, BetOnline has you covered with moneyline wagers or prop bets that can make you some quick cash.
Online Odds for UFC Championship Fights
There are several betting types to choose from when placing a wager on UFC events. However quite possibly the most common — and perhaps most easy to understand — is moneyline odds. The favorite will have a number with a minus to represent how much you'd have to bet in order to win $100. If a fighter has a plus sign next to their figure, they are the underdogs in the event and that is the amount you'd win on a $100 wager. In addition, bettors can wager on a parlay — a ticket that includes more than one bout with a variety of odd types (money line, over/under).
Mayweather vs. McGregor
The fight everyone had hope for has become a reality. On Aug. 26, 2017, five-division world champion Floyd Mayweather will put his unbeaten professional boxing record on the line in a super fight against UFC star Conor McGregor. Mayweather, who boasts an unblemished 49-0 record with 26 of his victories coming by knockout, is a heavy favorite heading into the boxing fight. According to Bodog oddsmakers, Mayweather is a -550 favorite to defeat the UFC brawler. McGregor — the UFC Lightweight champ — enters the highly-anticipated match as a +375 dark horse.