Let's be perfectly honest and admit no NBA franchise has underachieved as much as the Clippers have over the past decade or so. It started with the "Lob City" era of Chris Paul and Blake Griffin and has continued with the team's current superstar duo, Kawhi Leonard and Paul George. Regardless, this team's sheer star power has made them popular choices when betting on NBA games online.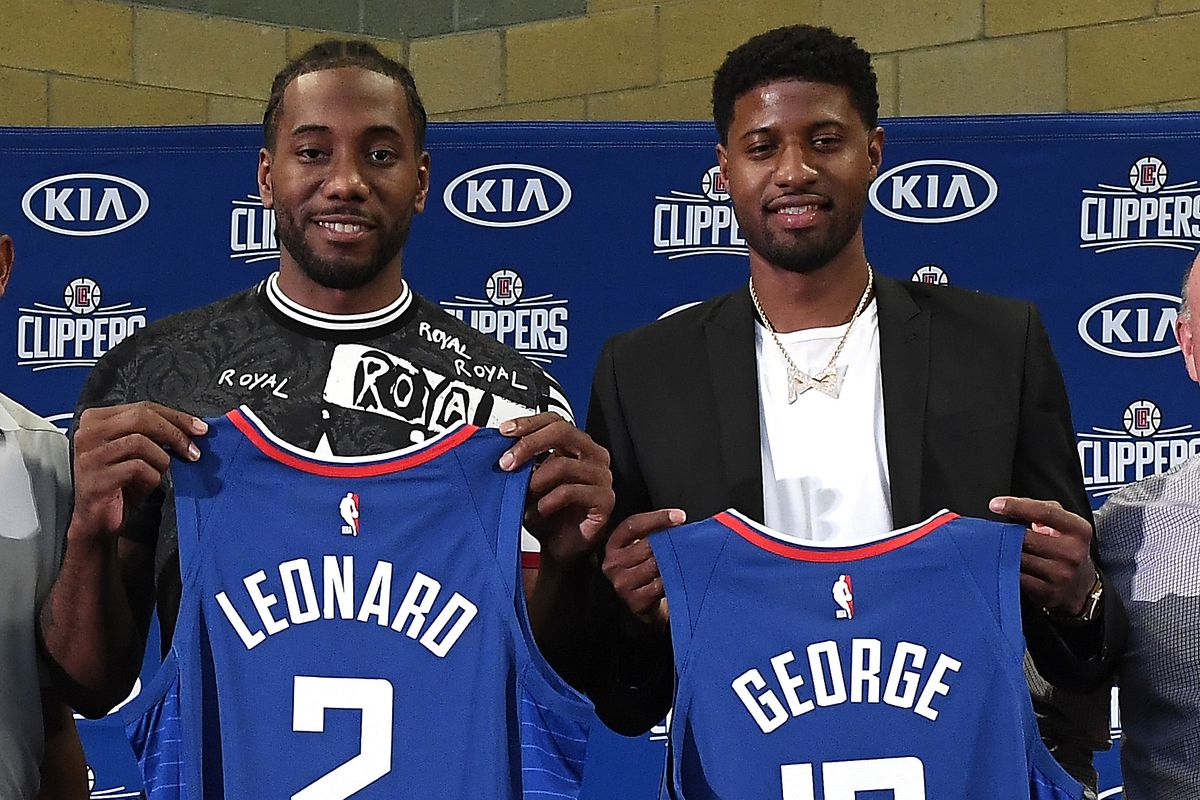 So you're going to be Los Angeles Clippers betting, then you should bookmark this page. It's littered with almost EVERYTHING you need to bet on Los Angeles Clippers including current game odds, schedule, standings, and expert betting advice. It will be good to reference this page every time you're scratching to throw money on a Los Angeles Clippers bet.
LA Clippers Next Regular Season Game
The next LA Clippers betting opportunity is listed below at ALL times. We update this widget with the Clippers' next opponent. You can also see the game's betting lines here to begin planning your strategy.
My Team's Next Match
L.A. Clippers
LA Clippers Game Schedule
For a complete Clippers schedule, see below. We've listed every single game the team is slated to play this season. Having this macro-view of the year is great for long-term betting. Let's be real, you probably can't bet on EVERY Los Angeles matchup. But having the schedule handy at least affords you the opportunity to start picking games of interest ahead of time.
What Are The Current LA Clippers Standings
The Western Conference is typically always stacked — more so than the East. You can use the standings below to see how the Clippers stack up against other conference foes like the Warriors and yes, city rivals the Lakers. All these teams are jockeying for playoff positioning with each other all-year long.
Los Angeles Clippers Online Betting Tips
Health is probably the number-one factor to the Clippers' success — and yours when betting on a Los Angeles Clippers game. Leonard, especially, has been hampered by injuries for the last couple of years. And not only that, but he's a beneficiary of "load management" many times so he doesn't wear out during the season.
So if you're going to be betting on this team, you need to keep both injuries and fatigue top of mind. Both will have a massive impact on Clippers betting outcomes so you can't overlook this important piece of the puzzle. It's perhaps more integral to LA than any other team given the history of Leonard.
Los Angeles Clippers Betting Odds
So long as Leonard and George are on the team — and more importantly, healthy — the Los Angeles Clippers betting odds to win championship will be among the best in the league. It has to be given the caliber of each, especially Kawhi who has "been there, done that" multiple times already.
Of course, that's only one way of getting Los Angeles Clippers betting odds. Every matchup during the preseason, regular season, or playoffs will offer the "classic" bets — spreads, moneylines, and over/unders. That's a lot of options, perhaps too many. We recommend picking and choosing your Los Angeles Clippers bets carefully and going into ones that you LOVE, not just like.
How to bet on the Los Angeles Clippers
You can bet on Los Angeles Clippers game — the next one and the rest that remain — at one of the bookmakers listed in the table below. What we really respect about these bookies is the prices they offer on Clipper matchups. It's either in-line or discounted odds compared to competitors, which makes a big difference to your profit-loss margins. We have in-depth sportsbook reviews which break this down further, plus touch on other points. The table below links to reviews, plus other must-know information.
More teams
---
Who's the coach of the Los Angeles Clippers?

Tyronn Lue is the Clippers' coach, a position he's held since 2020. Lue previously led the Cavaliers to an NBA title.

How many championships did the Los Angeles Clippers win?

The Clippers have exactly zero rings. Hell, they've only won two division titles in their long history while we're at it.

How many times the Los Angeles Clippers made the playoffs?

Since entering the league in 1970, the Clippers have made the postseason 16 times — the majority of those coming in recent memory.

What's the home arena of the Los Angeles Clippers?

That would be the Crypto Arena, which was formerly called Staples Center. The Clippers share it with the Lakers.

Who's the owner of the Los Angeles Clippers?

That would be Steve Ballmer, who made his fortune with Microsoft. Ballmer dropped $2 billion to acquire the team.

What sportsbooks are available in California?

None because it's not legal. Voters have struck down sports betting multiple times. For sports betting when inside sunny California, you'll want to use an offshore site.

What is Los Angeles Clippers Twitter?

Just type the team's name into the Twitter search bar and the account will pop up. Clippers have one of the league's best account with killer content constantly being posted.