Bettors, bookies, and basketball fans alike have pinpointed the Pelicans as one of the "under the radar" teams to look out for. After many years of being irrelevant, the team is on the cusp of prominence — if not already there. It has a face of the franchise caliber player in Zion Williamson. It acquired formidable "sidekick" CJ McCollum. The rest of the roster is full of improving youngsters. Collectively, this is why optimism is so high around New Orleans these days.
All of this is why we've created a complete New Orleans Pelicans betting guide. If this team turns out to be as good as many believe, then you'll want to be capable of taking advantage of all the New Orleans Pelicans bets that will be readily available across top online sportsbooks for NBA. As you scroll through this page, you'll be met with up-to-date betting lines, standings, schedule, tips, and a whole lot more. Scroll down to see what we mean.
New Orleans Pelicans Next Regular Season Game
New Orleans' soonest game is listed below. This widget is refreshed around the clock so it stays current. We've listed current odds for the upcoming matchup, but we encourage you to "shop lines" at top NBA betting sites. That way, you're getting the best betting line possible to stretch your money.
My Team's Next Match
New Orleans Pelicans
New Orleans Pelicans Game Schedule
Have a look below to see who the New Orleans Pelicans are pitted against over the whole year. Knowing the schedule now will help you game plan for future betting opportunities. Game lines will not be posted until the game is next up, but you can still use the schedule to determine how the matchup might go. For example, are the Pelicans on tired legs after a long road trip? Or have they beaten this opponent earlier in the season?
What Are The Current New Orleans Pelicans Standings
Always take notice of the New Orleans Pelicans' spot in the NBA standings so that you can understand their betting potential — especially when it comes to futures. The Western Conference is stacked, which makes the Pelicans' path all the more difficult to make a deep playoff run. The underneath standings will clue you in on how New Orleans is faring against other rivals out West.
Standings
New Orleans Pelicans
New Orleans Pelicans Online Betting Tips
The biggest variable that will influence the franchise's trajectory — and whatever New Orleans Pelicans bet you have — will be Zion. The first overall 2019 draft pick entered the league with sky-high expectations. He's been able to meet them when healthy. But that's the thing: Williamson can't stay 100 percent all that much. He missed the entire 2021-22 campaign, which naturally, brought out whispers of "bust." Look, we don't believe that, but we do agree Zion needs to show any measure of consistency.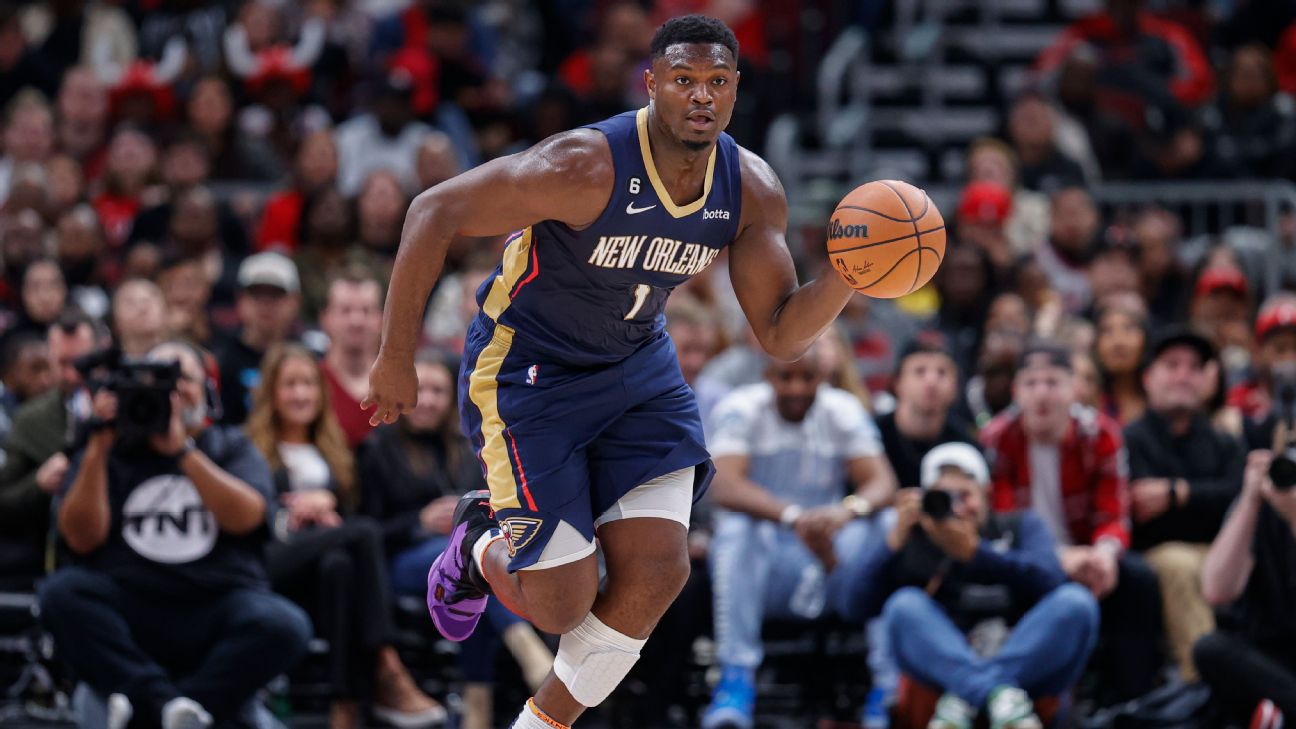 So as you bet on New Orleans Pelicans, take a hard look at Zion's health and production. Is he keeping his weight down? That's been one of the root causes of his long injury history. Has he developed a better jump shot? You can only have accurate answers by consistently watching this team over the course of the season and seeing what's happening. A lot can change over the year. For all we know, Zion can show up for training camp in peak shape but then go off the rails around the All-Star break. You just don't know unless you're watching on a regular basis and assessing where things are going.
New Orleans Pelicans betting odds
There will be absolutely no shortage of New Orleans Pelicans betting odds available throughout the season. However, that can sometimes be detrimental. Having so many options can actually be information overload. As a bettor, you want to bet on New Orleans Pelicans game that's MOST worthwhile. Be picky here and really go after betting opportunities you love, not like.
The vast majority of Pelicans bets will revolve around single games. You know the deal here — spreads, over/unders, props, and so forth. But futures also exist and might be worth a shot if you have patience. A prime example of a futures is the New Orleans Pelicans betting odds to win championship. If you can wait, the potential payout could be big since many are still sleeping on the Pelicans as true title conteders.
How to Bet on the New Orleans Pelicans
If you've read all the way down to here, the only thing left for you to do is to actually start placing bets at a sportsbook. Welp, you can easily do that at one of the betting sites we've featured underneath. All five choices below were hand-picked based on how they graded out in our latest sportsbook reviews — spoiler alert: all were high performers. What we really love about these bookies is their ease of use. All it takes is a few clicks to get started and begin placing wagers on the Pelicans. Check out the table below to get started now!
More teams
---
Who's the coach of the New Orleans Pelicans?

Willie Green became the franchise's head coach in 2021. He spent 12 years as an NBA player before ascending up the coaching ranks.

How many championships did the New Orleans Pelicans win?

None. Nada. Zilch. The team has yet to even reach a conference finals, little less the actual NBA Finals.

How many times the New Orleans Pelicans made the playoffs?

Since the Pelicans' debut season in 2002, the team has qualified for the postseason on eight occasions. The furthest they've ever gone is the second round of the playoffs.

What's the home arena of New Orleans Pelicans?

Home games for New Orleans are played at the Smoothie King Center, which has been around since 1999. It wasn't occupied by the team until 2002, however.

Who's the owner of New Orleans Pelicans?

Gayle Benson is the Pelican's owner. She inherited the team after her husband, Tom, died. Gayle also owns the Saints.

What sportsbooks are available in Louisiana?

Louisiana has fully legalized sports betting. You're free to gamble there at a retail casino or even an offshore betting site!

What is New Orleans Pelicans Twitter?

It's not hard to find the Pelicans' Twitter account. Search them on Twitter and they'll appear