Here we have OSS' NBA Playoff betting picks for the weekend ahead.
The NBA Conference Finals are next week and the Milwaukee Bucks and Golden State Warriors can wrap up their series with a win this Friday. But not so fast. Our moneys are one the underdogs: the Boston Celtics and Memphis Grizzlies. Going by the current NBA betting odds, we like for these road dogs to scratch and claw their way to a victory as we break it down with our NBA playoff picks.
It's gut-check time. Friday features two Game 6s with the Boston Celtics and Memphis Grizzlies looking to force Game 7s. It gets tough for them as they travel to enemy territory. The NBA online betting lines have Boston as a slight underdog while Memphis will be a sizable one. History is against these teams but they have what it takes to push their rivals and you can bet on it from the best sportsbooks like BetOnline.
NBA 2022 Playoff Picks: Friday, May 13
Just like our NBA playoff picks from Thursday, we are liking the underdogs for this Friday. But unlike Thursday's series, upsets have been quite common for the Celtics-Bucks and Grizzlies-Warriors games. Underdogs are 5-5 and 8-2 against the spread (ATS) with these games, and it's thanks to how evenly matched the teams are.
| Away Team | | | Home Team |
| --- | --- | --- | --- |
| Boston Celtics +1.5 | -110 | -110 | Milwaukee Bucks -1.5 |
| Boston Celtics ML | +102 | -123 | Milwaukee Bucks ML |
| Away Team | | | Home Team |
| Memphis Grizzlies +8.5 | -110 | -110 | Miami Heat -8.5 |
| Memphis Grizzlies ML | +302 | -397 | Miami Heat ML |
Celtics Won't Let Bucks Slip By Again
The Boston Celtics, for the second time in three games, had the Milwaukee Bucks and let them slip. As Shaquille O'Neal said, "Boston played great for 45 minutes." But that final three minutes was a nightmare, especially for guard Marcus Smart whose turnover proved costly. Milwaukee outrebounded Boston by eight and outscored it by 12 in the fourth. But Boston was outplaying Milwaukee for the most part.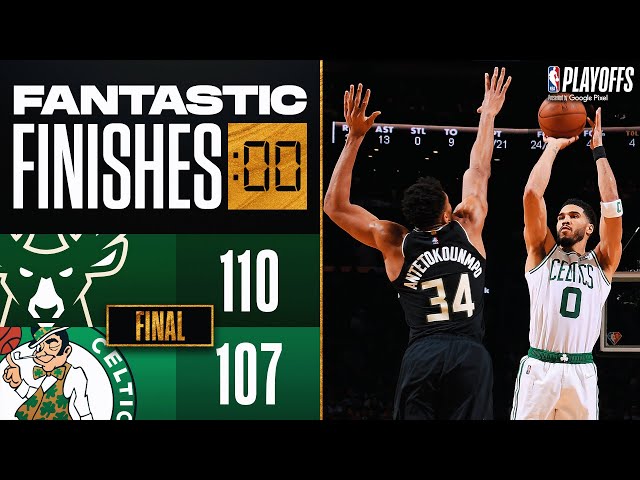 Expect more of the same from the Celtics. The heartbreaker will only galvanize the team. Boston has been shooting a lot better lately. Jayson Tatum has scored 30 or more points in the last two games despite hitting just 5-of-21 from three. Ignore Boston's 4-11 record in games decided by three points or fewer. With their playoff lives on the line, Boston will continue to shut down Milwaukee's perimeter game as they outlast them in another tight contest.
Bucks and Celtics Combine For Another Ugly Game
As has been the case with their series, expect another grueling game from the Boston Celtics and Milwaukee Bucks. Even with Boston's improved offense, it is still shooting just 43.6 percent from the field. It's even uglier for Milwaukee, which is shooting just 42.4 percent from the field. Several star players like Tatum and Jrue Holiday are shooting under 40 percent as a whole.
The last two games went over the total but this was due to some hot fourth-quarter scoring from both Milwaukee and Boston. In Game 4, the Bucks let the Celtics hit 16 of their 19 field goals as they collapsed on defense. While defenses tend to wane in the fourth due to fatigue, expect both teams to last a bit longer given the situation.
Cornered Grizzlies Remain Dangerous Against Warriors
The Memphis Grizzlies "whooped that trick" as Steph Curry's comments backfired in epic fashion. Seven Grizzlies scored in double figures as Memphis spanked the gold out of Golden State. It wasn't a coincidence that Memphis is 20-6 with Ja Morant out of the lineup. The team can manage on offense without him and their defensive intensity ramps up.
After 3Q:

Grizzlies 119
Warriors 67

FIFTY TWO point lead. pic.twitter.com/bBWS1udc38

— StatMuse (@statmuse) May 12, 2022
Without Morant, the Grizzlies are 7.6 points better on defense in the playoffs. Tyus Jones has also run the offense just fine. He is nowhere near as dynamic as Morant, but the 26-year-old is effective as he's averaged 20 points and seven assists with an eye-popping 65 percent effective field goal rate (eFG%).
Returning to San Francisco, Memphis will have to contend with the NBA's best home defense. But Memphis is ready. This team is hungry and athletic and will push the Warriors to play their best. Memphis will at least cover.
Inspired Play Makes Warriors-Grizzlies Defensive
The Golden State Warriors have the top-rated defense at home, and they allow the second-fewest points. It shouldn't come as a surprise that 56.1 percent of their games go under (18-23-2) when they are favorites at the Chase Center. With the chance to close out Memphis, Golden State will ramp up the defensive intensity.
You can consider Game 5 more of an "off game" for Golden State as they let the Grizzlies go out. Come Friday; the Warriors will neutralize the Grizzlies. We won't see five Grizzlies shoot at 50 percent or better, and Jones will not have an 83.3 eFG%. On the flip side, Memphis will also hound and harass Golden State's shooters all game making this one a low-scoring affair.