After a big performance from Jimmy Butler in Game 1, we're expecting some revenge from Jayson Tatum with our Celtics vs Heat Game 2 betting picks. While both Miami and Boston are known for their elite defenses, the injuries and growing desperation will push each team to crank up the scoring. It will rain buckets in South Beach. Looking to make great NBA Finals bets? Let's have a look at the latest NBA playoffs picks.
After what appeared to be an even matchup between the Boston Celtics and the Miami Heat, the home team Heat rode a red-hot third quarter and finished off Boston. It's the second straight Game 1 that Boston has dropped and we know what they did in the last series: buckled down and fought back. We expect the Celtics, who are underdogs again per the NBA online betting odds, to put up a better fight as we head to Game 2.
Celtics vs Heat Game 2 Preview: Value is on Boston as Underdogs
It's not often that the Boston Celtics find themselves as underdogs for consecutive games. The last time Boston was an underdog, they soundly defeated the then-defending NBA Champions in Milwaukee. We correctly picked Boston with our NBA Playoff picks. Boston will look to cash as an underdog on the road yet again, and there is plenty of value on the team even if they are shorthanded.
| Away Team | | | Home Team |
| --- | --- | --- | --- |
| Boston Celtics +4 | -110 | -110 | Miami Heat -4 |
| Boston Celtics ML | +155 | -185 | Miami Heat ML |
| Total | | | Total |
| Over 207.5 | -110 | -110 | Under 207.5 |
Boston Celtics Need A Big Game From Jayson Tatum
The Miami Heat sent the Boston Celtics, and perhaps the rest of the NBA, a thunderous message with a beatdown of Boston in the second half. Now, Boston understands: one bad quarter can sink them. This Heat team, even without Kyle Lowry, has more firepower than Milwaukee and Jimmy Butler is a man possessed.
The first on Boston's agenda is to figure out how to get more production from both Jayson Tatum and Jaylen Brown. The duo shot a combined 2-of-11 (0-of-7 from 3) when Butler was defending them. Tatum went 1-of-7 with eight points and a game-worst -22 in the second half of the game. On the flipside, Butler outscored both him and Brown with 27 points and a game-best +27.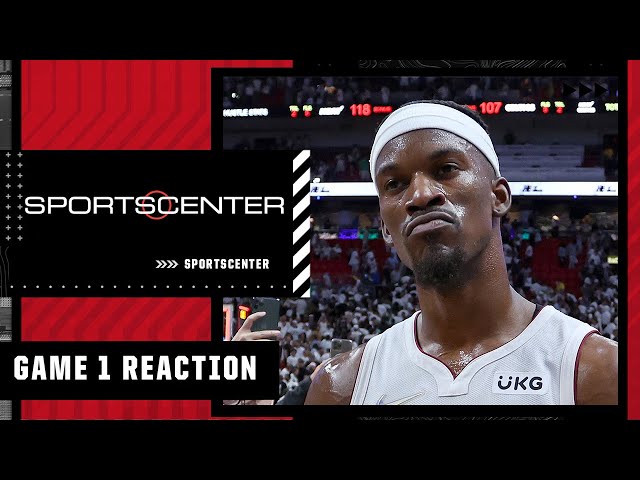 If the Celtics are not getting any production from Tatum, the team is going to lose. The team is just 1-3 in the playoffs when Tatum shoots below 44.1 percent, which is his playoff average. The three-time All-Star will need to pick it up more now with the likes of Al Horford, Marcus Smart, and now Robert Williams all expected to miss the game.
But Tatum, as inconsistent as he's been, has not put up consecutive bad outings.  He's averaging 35 points on 50 percent shooting following a loss in the playoffs. We expect him to play much better while Butler is unlikely to drop 41 points again. Boston has also covered nine of its last 10 spreads, and it has beaten Miami in two of its last three trips to the FTX Arena. The value is on Boston.
Hot Scoring Will Continue Despite Defense
The Miami Heat and Boston Celtics are two of the best defenses in the NBA. But despite their notoriety, most of their games against each other have yielded higher scoring games than oddsmakers predicted. Seven of their last 10 meetings have gone over the total partly because the totals have been set at a relatively low number.
In Game 1, the total went 22 points higher than the number. Even if Miami has the best defensive rating in the playoffs (101.7), it still allowed the Celtics to shoot over 45.6 percent from the field. In the first half, Boston shot 59.1 percent and 35.7 percent from three. Of course, the Heat shut them down after.
In the regular season, the Heat led the NBA in 3-point field goal percentage, while the Celtics led the league in defending the 3-point shot.

This is the 7th time the top team in 3-point offense will face the top team in 3-point defense. Defense has won 4 of the last 6 series. pic.twitter.com/ytLUcIV86l

— ESPN Stats & Info (@ESPNStatsInfo) May 17, 2022

But this is Boston, a team that has the fourth-best offensive rating on the road in the playoffs (113.1) and the sixth-best in the regular season (114). Boston's defense dips a little when they are road underdogs, and the absence of Smart, Horford, and Williams will make it harder for the team to contain Miami's aggressive offense.
It's no surprise then that 57.7 percent of Boston's games as an underdog go over (15-11-1) this season. We're backing Boston to give Miami a run for their money, but it will be through their offense and not their defense. Tatum should pop off, and you can use MyBookie sportsbook to bet on his point totals via the props. It's about to get hot in Miami.