Carolina is use to playing the underdog role — probably to their benefit. It after years of falling short in the postseason, the organization made massive moves that challenge the status-quo. Carolina has set itself up to be a contender for Eastern Conference titles, if not Stanley Cup championships. The underdogs have become favorites, and that carries over into the top NHL betting sites.
Of course, this is just speculation. The team still has to prove it on the ice. But regardless, it might be a smart idea for you to start fine-tuning your Carolina Hurricanes betting strategy, your wallet is depending on it. To help you out in that regard, we've assembled this guide to bet on Carolina Hurricanes. It's packed with all the pertinent details like current odds, standings, and tips on actually winning Carolina Hurricanes bets more often than not. Stick us for this must-know information!
Carolina Hurricanes Next Regular Season Game
Your next opportunity to wager on Carolina is marked below. This widget is updated all year long to feature the team's upcoming game. You'll also find current odds for the game right there.
My Team's Next Match
Carolina Hurricanes
Carolina Hurricanes Game Schedule
Take a good look at the Carolina Hurricanes' regular season schedule below. Not only can you look at prior results, but you can use the schedule to plot your betting strategy over the long haul.
What Are The Current Carolina Hurricanes Standings
Carolina competes in the Metropolitan Division of the Eastern Conference. Other teams in this division include New York (both of 'em), New Jersey, and Pittsburgh, among others. So when you're looking at the standings underneath, don't solely look at the Canes. Look for their division rivals too as this will tell you who's putting themselves in a position to make the postseason.
Standings
Carolina Hurricanes
Carolina Hurricanes Online Betting Tips
We'll be completely real with you: sports betting is hard. If it were easy then betting sites would run out of business easily. Given how many different sportsbooks there are, that's certainly not the case. But that doesn't mean winning can't be done. It can so long as you dial in your focus to 100 percent. Our recommendation to you is relentlessly bet on Carolina Hurricanes game at the expense of others. The more attention you pour into following the Canes, the more likely you are to develop a specialization around the team.
Specialized knowledge is what separates the great bettors from the ok ones. It's the only way to get the upper hand on bookmakers setting the lines. After all, most of these lines you're putting money into are pumped out by algorithms. Do you think you can outsmart computer models on chance alone? No way! It takes deep insights to "outsmart" the books. Focus your betting efforts on Caroline to fast-track yourself into picking up these valuable insights.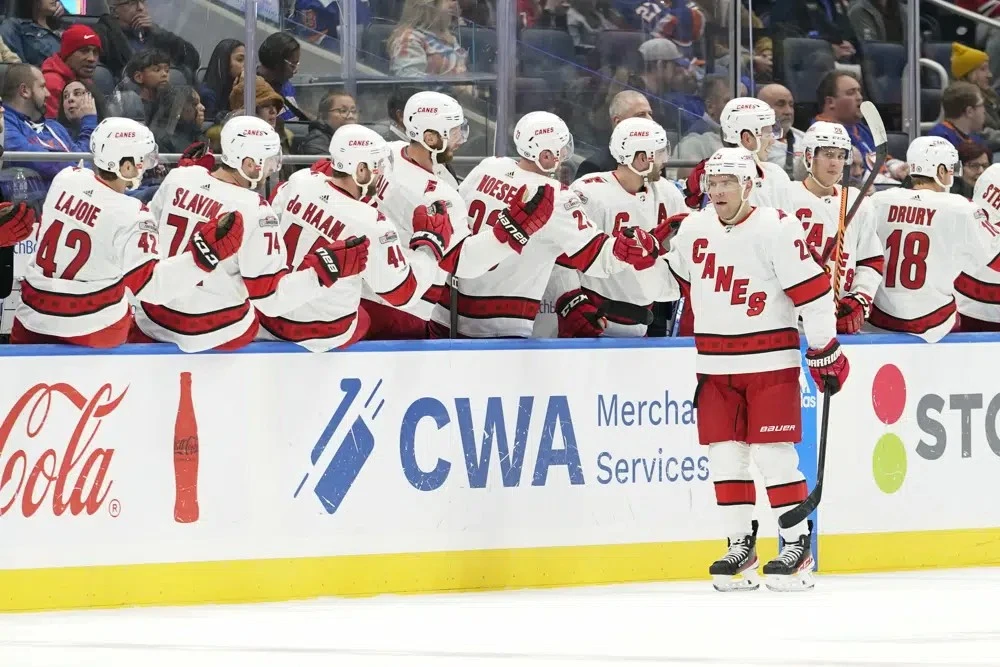 Carolina Hurricanes Betting Odds
Given the big moves the franchise has made as of late, it's become popular to bet on Carolina Hurricanes winning championship. The talent is there, but the Eastern Conference doesn't provide the easiest path to the title. Many believe the Canes are missing an "it factor" player to go all the way, but that hypothesis is yet to be proven or disproven. Either way, this wager is worth evaluating on your own.
Carolina Hurricanes betting odds to win championship is an example of a futures wager. It's a fun bet, but the more consistent money will be made wagering on single Carolina games over the season. This would be your puck line, moneyline, and over/under wagers. Given the 82-game season, there are almost limitless opportunities to cash from these bets.
How To Bet On The Carolina Hurricanes
We've covered a lot on this page but there's one thing we've neglected to mention: where can you even drop a Carolina Hurricanes bet? Well, there are a lot of online options, but our recommended bookmakers are listed underneath. Each bookie you see here is among our highest-rated based on the latest sportsbook reviews. Not only will you see the full range of Canes' bets at these sites, but they'll be offered at great prices too — some of the best in the whole industry. In the long run, preserving this value matters greatly to your profits and losses so don't overlook cheap betting lines.
More teams
---
Who's the coach of the Carolina Hurricanes?

Rod Brind'Amour has been Carolina's head man since 2018. He's taken the team to the postseason each year since taking over.

How many championships did the Carolina Hurricanes win?

The Canes won their first and only Stanley Cup title in 2006. Carolina needed seven games to outlast Edmonton for the championship.

How many times the Carolina Hurricanes made the playoffs?

Since Carolina entered the league in 1979, they've made the postseason 18 different times.

What's the home arena of Carolina Hurricanes?

Canes' home games are played at the PNC Arena in Raleigh, North Carolina. The building has existed since 1999.

Who's the owner of Carolina Hurricanes?

Thomas Dundon is the sole owner and CEO of the Canes. He first bought into the team in 2018 before upping his stake to 100 percent in 2021.

What sportsbooks are available in Carolina Hurricanes?

North Carolina has not yet legalized sports betting. That's why it's best to use an offshore betting site in the meantime if located inside the state.

What is Carolina Hurricanes Twitter?

All you got to do is type in "Carolina Hurricanes" into Twitter and you'll quickly find the team's account. Look for the verified account with a checkmark badge next to the name.