The Red Wings are one of the proudest, most successful franchises in NHL history. Its wins, playoff appearances, and Stanley Cup trophies all hover among the most of all teams. This success has brought them fanfare across the globe, and likewise, massive attention at top NHL betting sites. We mean, if you plan to be a consistent hockey bettor, then there's a good chance you'll be getting action on Detroit.
By reading this through entire page, you'll have unique insight into all things Detroit Red Wings betting. That includes the latest Detroit Red Wings betting odds, standings, schedule, and yes, expert tips for actually winning your wagers. Think of this as a one-stop shop to bet on Detroit Red Wings!
Detroit Red Wings Next Regular Season Game
Betting — like most things in life — is best to take it "one game at a time." Welp, this widget is literally the epitome of that. We've listed Detroit's next matchup on the ice here, and all season long too because we're constantly updating this. The widget also features the current odds of that forthcoming matchup.
My Team's Next Match
Detroit Red Wings
Detroit Red Wings Game Schedule
Below you'll find the Red Wings schedule in its entirety. All 82 games are listed here, which gives you an opportunity to circle future betting opportunities. In that regard, look for long homestands, roadtrips, or matchups with teams that either get the best or worst out of Detroit.
What Are The Current Detroit Red Wings Standings
There's now 32 teams in the NHL and you can see where they all stand with the standings below. Of course, you want to pay special attention to where the Red Wings sit. Are they in lottery contention again? Or threatening for one of the eight playoff sports in the Eastern Conference? The up-to-date standings underneath will tell you exactly how they fare.
Standings
Detroit Red Wings
Detroit Red Wings Online Betting Tips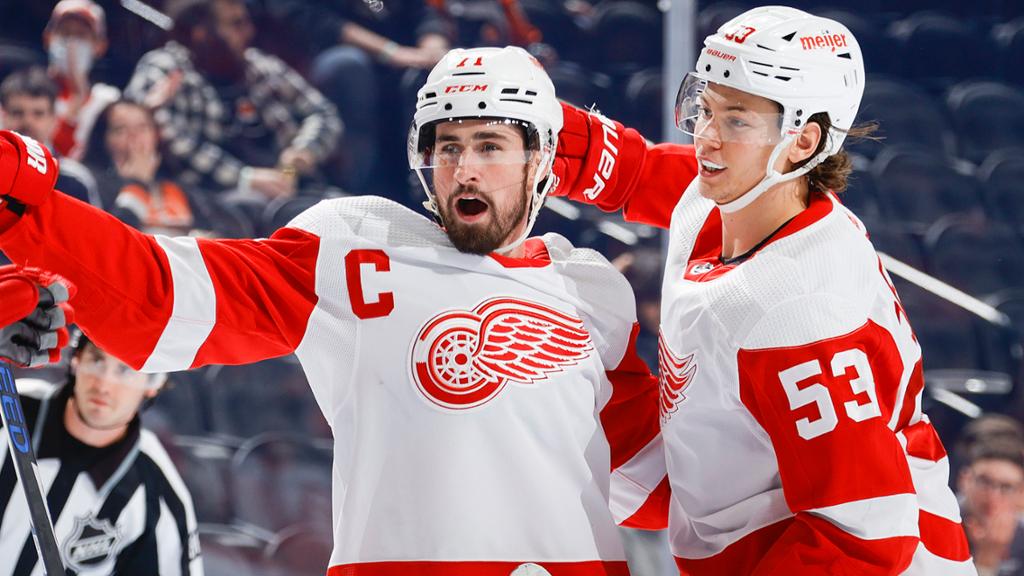 For all of Detroit's past success, recent success has been increasingly rare. Instead of playing for Stanley Cup titles, the franchise has been competing for NHL Draft lottery picks. For this reason, change won't be easy to come by. As a bettor, you need a large sample size of data (games) to spot any lasting changes that'll have an impact on your Detroit Red Wings bets.
The best way to spot these changes is with your own two eyes — and not via hearsay. The truth is most bettors and analysts regurgitate what they hear others say. True insight is drawn from independent study and pattern recognition. Watch the team closely, whether you're laying a bet on Detroit Red Wings game or not, and make sense of what's happening. Who's improving? Who's regressing? These are just a few of the questions you should have answers to after watching.
Detroit Red Wings Betting Odds
If we were you, we'd stay far, far away from Detroit Red Wings betting odds to win championship. It's just rare for a team to go from complete non-contenders to title winners in one season. No, typically you see a franchise make gradual playoff progress before breaking through to the Stanley Cup. So we'd urge you to look for that in Detroit before jumping on any futures bet.
Of course, futures are only one method for getting your Red Wings betting fix. There are also moneylines, spreads, over/unders, and props — all of which are available on single Detroit games, from preseason to the postseason (if they qualify). Given how many games there are in a season, these game bets offer the best chance at making money.
How To Bet On The Detroit Red Wings
Ready to drop a Detroit Red Wings bet? If you've read up to this point, then you should be because we've given you the "keys to the kingdom" per se. The only missing piece of information? A trusted sportsbook to handle your money. But hey, we have that covered underneath too. The betting sites you see listed here are top-rated, per our unbiased sportsbook reviews. Any one of them will offer the full gamut of Red Wings betting lines so have your pick!
More teams
---
Who's the coach of the Detroit Red Wings?

Detroit's head man is Derek Lalonde. He took over the position during the 2022 offseason.

How many championships did the Detroit Red Wings win?

The Red Wings own 11 different Stanley Cup trophies. That's the third most in league history.

How many times the Detroit Red Wings made the playoffs?

Playoff appearances have been the norm for the Pistons franchise. They've advanced to the postseason on 64 different occasions, which is fourth-most in NHL history.

What's the home arena of Detroit Red Wings?

Red Wings home games are played at the recently-opened Little Caesars Arena. The facility opened its doors in 2017.

Who's the owner of Detroit Red Wings?

The Red Wings are owned by a holding company named Olympia Entertainment. The same company owns the city's NBA team (the Pistons), Little Ceasars Arena, and other sports properties around Detroit.

What sportsbooks are available in Michigan?

It's 100 percent legal to gamble inside the state of Michigan. You have various options to do so, but one of the most convenient remains offshore betting sites.

What is Detroit Red Wings Twitter?

You won't struggle to find the Red Wings on Twitter. Just type in the team name onto Twitter's search bar and you'll find them (look for the verified blue badge).