$2 billion — that's what the Rangers were recently valued at. The franchise became the NHL's first to reach the two-billy mark, and that's not surprising considering the market AND arena they play in. While the New York Islanders play outside the city, the Rangers call Madison Square Garden home. There's just a prestige factor with the Rangers, that makes them not only valuable but an attraction at popular NHL betting sites.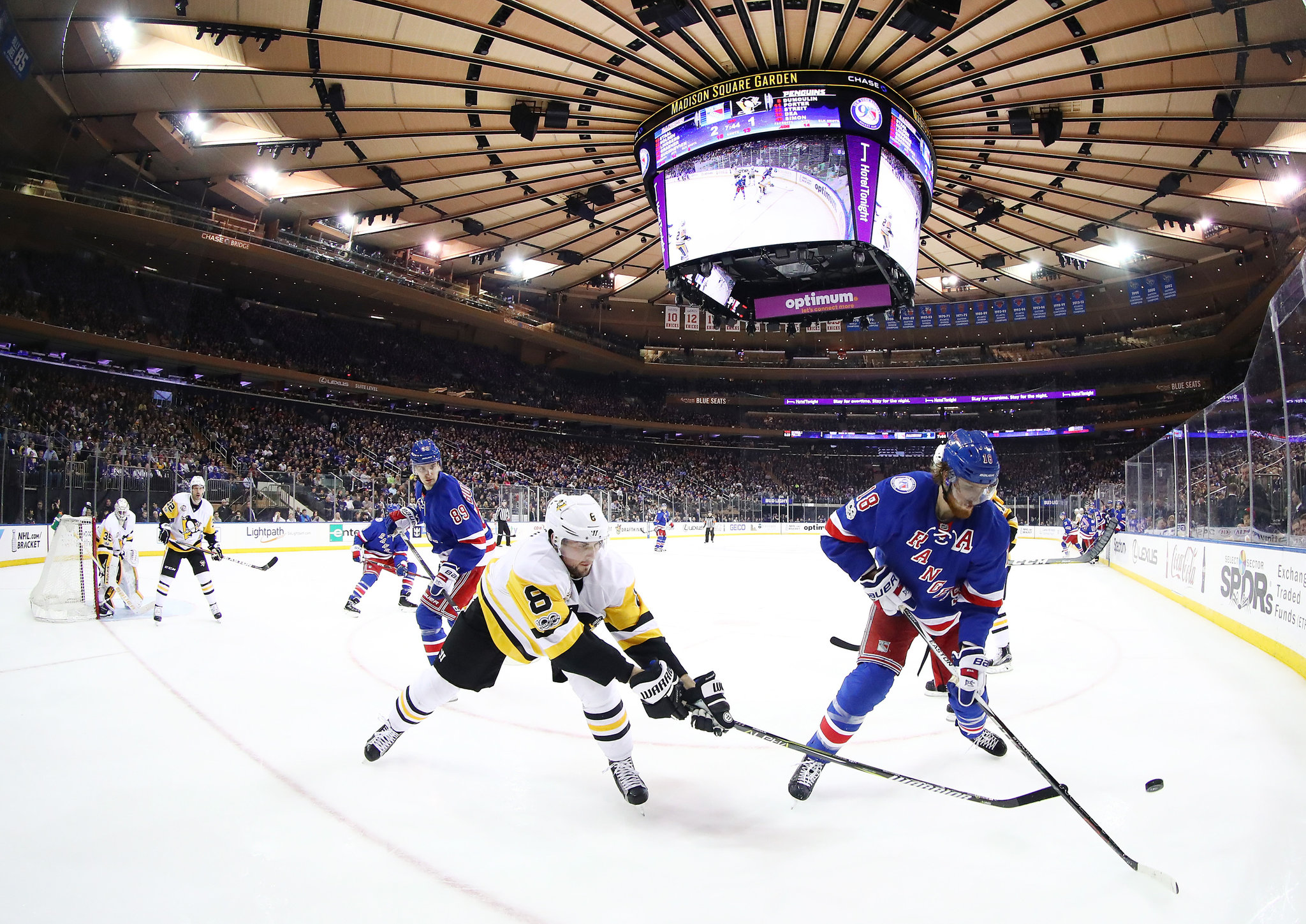 This interest around the team led us to create this in-depth New York Rangers betting guide. Stick with us if you want a primer into putting a bet on the New York Rangers. Odds, standings, tips — we got it all for you right here!
NY Rangers Next Regular Season Game
Underneath we've listed the Rangers' next game aka your soonest chance to put money down on the team. Not only that, but you'll also find current betting odds on the matchup. You can bookmark this page and check back from time to time as we update this widget around-the-clock to showcase the next New York matchup.
My Team's Next Match
New York Rangers
NY Rangers Game Schedule
All 82 games of the Rangers' regular season can be found below. Take this opportunity to begin pinpointing possible bets down the line. Maybe New York is playing against a team they've already lost to this season. The below schedule will help you spot such scenarios, plus others that you can use to bet.
What Are The Current NY Rangers Standings
The Rangers play in the Metropolitan Division, alongside the likes of the Capitals, Devils, Islanders, and more. As you can imagine, it's not an easy division whatsoever. You can see how New York stacks up against them — plus other league teams — with the standings featured underneath.
Standings
New York Rangers
New York Rangers Online Betting Tips
Because of the franchise's stature as one of the most well-known and well-covered teams in the whole NHL, there's a strong emotional element around New York Rangers bets. You either love em or hate em — no in-between. But that's the thing, you want to be even-keeled as a bettor. Being fair and "down the middle" is your best chance to fairly assess New York Rangers betting odds and make a decision.
We would tell you to be unemotional when you bet on New York Rangers game, but let's be honest, that's probably not realistic. Being emotional is part of the human experience. We're not robots. While you likely can't be emotion-free, you should at least recognize when you're betting emotionally, not logically. And once you're cognizant, try to take a step back and re-evaluate things or at the very least, dial back the amount of money you're betting with. Minimize emotions to the best of your ability when placing a New York Rangers bet.
New York Rangers Betting Odds
The Rangers haven't won a Stanley Cup in about 30 years. Nonetheless, that doesn't stop bettors from jumping on New York Rangers betting odds to win championship. Our gut says most of that betting volume comes from its diehard fanbase, an act of allegiance of sorts.
If we were you, we'd just stick to betting on individual Rangers games. You actually have a chance at making consistent money with these given the 82-game season. Heck, preseason and the playoffs (if New York advances) also present the same opportunities to wager on puck lines, over/unders, and props.
How to bet on the New York Rangers
You can place all your Rangers bets at one of the sportsbooks listed below. Joining one of these bookmakers literally takes a few clicks. You can go from reading this sentence to making money on New York bets within minutes. See the table below for details on how to get started. We suggest reading our latest sportsbook reviews first. After that, pick a bookmaker that matches your liking. Find that bookie in the table below and hit the "play now" button next to it. That'll fast-track you to begin betting on the team!
More teams
---
Who's the coach of the New York Rangers?

Gerard Gallant was named the Rangers' head coach in 2021. Before this, he helped the expansion Golden Knights get off the ground and win out of the gates.

How many championships did the New York Rangers win?

The Rangers, for all its history, have only won the Stanley Cup four times. Three of those came before 1941. New York's last title reign came in 1994.

How many times the New York Rangers made the playoffs?

Since the franchise's first-ever season in 1926, the Rangers have made it to the postseason on 61 different occasions.

What's the home arena of New York Rangers?

That would be "The Most Famous Arena In The World" — Madison Square Garden. You can't out-prestige MSG, you just can't.

Who's the owner of New York Rangers?

James Dolan is the Rangers' owner. Dolan also owns the NBA's Knicks and Madison Square Garden as a whole. Despite having ownership over much of the city's sports culture, Dolan remains vilified for the team's lack of success and overall dysfunction.

What sportsbooks are available in New York?

Sports betting is 100 percent legal in the state of New York. You're free to bet at a physical sportsbook or even the offshore betting site route.

What is New York Rangers Twitter?

You can't possibly miss the Rangers on Twitter. They have one of the most-followed team accounts in the league. Type the team name into the Twitter search bar and they'll quickly appear.