With the 2022 NBA Finals comes plenty of storylines. But none is hotter than Stephen Curry finally winning a Finals MVP. The Golden State Warriors' superstar is the favorite per the 2022 NBA Finals MVP odds. But is he a good bet at his steep line? We examine why it's best to pick against Curry and promote three other players who could just "steal" the award from him.
Nearly every legendary NBA player who has won an NBA title has also won an NBA Finals MVP: LeBron James, Kobe Bryant, and of course, Michael Jordan. Stephen Curry has done everything except winning the elusive award. But if the 2022 NBA Finals odds are accurate, Curry should finally capture it. But per our analysis, Curry has terrible value, and money is best spent on other contenders when betting on NBA online.
2022 NBA Finals MVP Picks: Who To Bet Outside Curry?
The BetOnline sportsbook has presented a long list of NBA players who have a shot at winning the 2022 NBA Finals. By "shot" we mean less than 10 percent for most of the players on this list. However, Andre Iguodala already proved in 2015 that any player, regardless of status, can go on to capture the award. That may have been a once-in-a-lifetime occurrence, but other players have a realistic chance of winning.
Not-So-Hot Curry: Why Stephen Curry Has Terrible Value
With nothing against Stephen Curry, but the point guard is a bad choice based on his betting odds. Had Curry been at the +150 to +200 range then he'd be a wonderful bet. Curry won the Western Conference Finals MVP against the overmatched Dallas Mavericks and is putting up 25.9 points per game to lead the Warriors in the playoffs.
However, in 2016, Curry was held to just 22.6 points on 40.3 percent shooting. He also averaged 4.3 turnovers to just 3.7 assists. In 2019 against Toronto, he averaged 30.5 points but shot just 41.4 percent and had two games where he shot below 40 percent. A few off games from Curry could torpedo his chances, especially when anyone from Jordan Poole to Klay Thompson could get hot.
The "Kobesciple": Jayson Tatum Is Boston's Man
Stephen Curry's counterpart is Jayson Tatum on the Boston Celtics. Like Curry, it's a foregone conclusion that he will win Finals MVP should his Celtics upset the Warriors. Tatum, also like Curry, captured the Conference Finals MVP when he put up 25 points against the Heat. As a true Kobe Bryant disciple ("Kobesciple" by Internet lingo), Tatum wows fans and media members alike with his propensity to take and make difficult shots.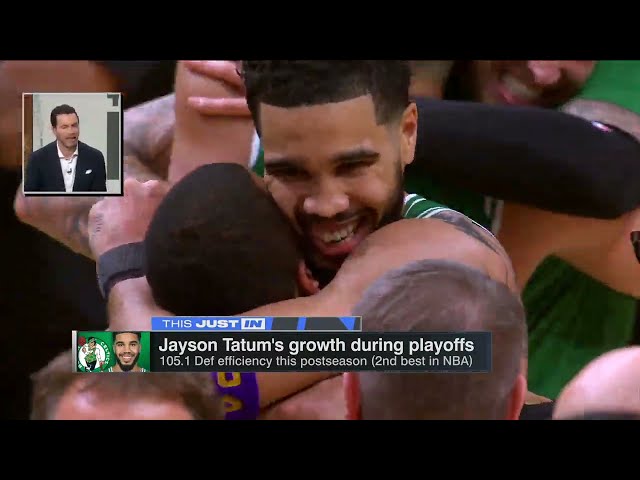 However, Tatum also gets stubborn and can make one too many questionable calls. This is what has led him to becoming inconsistent and he can often have ice-cold nights like when he went 3-of-14 in Boston's Game 3 loss against Miami. But like Curry, Tatum is likely to lead his team in scoring and given how much the media loves him, he's almost a lock to win FMVP.
Poole Party: The Heir To Steph Curry
We couldn't have seen the Miami Heat pull off a humongous upset with our Game 6 picks thus warranting that underdogs, even big ones, have a better shot than expected. Enter Jordan Poole. The Warriors' sixth man proved he is not only All-Star-caliber but potentially the heir to Stephen Curry. It's not all hype either as Poole averaged 28.7 points with a whopping 667/591/810 shooting line in his first three playoff games as a starter.
Of course, he cooled off and is "only" averaging 17.2 points with a 523/345/971 shooting line. What Poole has is the potential to catch fire and light Boston up when they are using most of their efforts to neutralize Curry. Poole is also coming off the bench just like Andre Iguodala. Should the Warriors use the lineup that includes him, unofficially dubbed the "Poole Party", he could just make a run at that FMVP.
White Hot Odds: How Derrick White Wins As A Longshot
At 200-1, it's worth a sprinkle that Derrick White can become the Andre Iguodala of the Boston Celtics. The sixth man has been a catalyst in Boston's change as the Celtics are 31-12 with him in the lineup. White is one of the most versatile players with Boston and he will be tasked to not only produce off the bench but help limit the likes of Curry, Poole, and Klay Thompson.
Iguodala won the Finals MVP by holding LeBron James to below 39% shooting, which ultimately swung the series in Golden State's favor. If White can slow down Golden State's guards, he may just win some Finals MVP votes. Of course, White will also need to put up points and he'll need more than the 8.1 points he has averaged so far.