Bookmaker.eu Sportsbook Bonuses and Promotions
A sportsbook can learn a lot in 30 years. Sportsbooks that are as experienced as Bookmaker.eu have certainly led the charge for many of the smaller, lesser-known sportsbooks. They have ensured their name is known, with lucrative partnerships with global news outlets like ESPN, Forbes, and the New York Times. They've consistently ranked at the top of the sportsbook rankings for a number of years due to their excellent betting odds and quick payouts.
Bookmaker.eu sportsbook has a reputation for being an authority for setting the earliest and best lines in the sports betting industry. Many sports betting sites follow Bookmaker's lead as their lines are always first to be released or at least one of the earliest sportsbooks to release lines on any given game.
The lines at Bookmaker force other sportsbooks to follow their lead because the lines are always so sharp at Bookmaker, it would be silly to be anywhere else. Their catchphrase has always been 'where the line originates' because they've always set the standard for each and every sport.
Bookmaker is available to many countries - only being restricted to a select few: France, Australia, Costa Rica, Ukraine, and the UK. It is a trusted sportsbook for American bettors, as well as bettors from around the world who have access to the sportsbook.
When using Bookmaker you can take advantage of plenty of sportsbook bonuses and promotions - but it's important to understand how they work and what you will be getting from the bonuses you redeem. Many don't read the fine print on sportsbook bonuses and it's important to have that all laid out in front of you before you make the decision to use sports betting bonuses.
How to Use the Bookmaker.eu Sportsbook SignUp Bonus
Upon choosing to sign up at Bookmaker.eu, you will be prompted to make your first deposit and fund your account. It's important to keep in mind you must redeem these bonuses on your first deposit as you cannot use them again after the fact. Sign up using your basic information on the sign-up page then you will head to the cashier. When in the cashier area, you will select the bonus you wish to redeem and make your deposit.
It's luckily a very easy process in general, and you have quite a few options to choose from.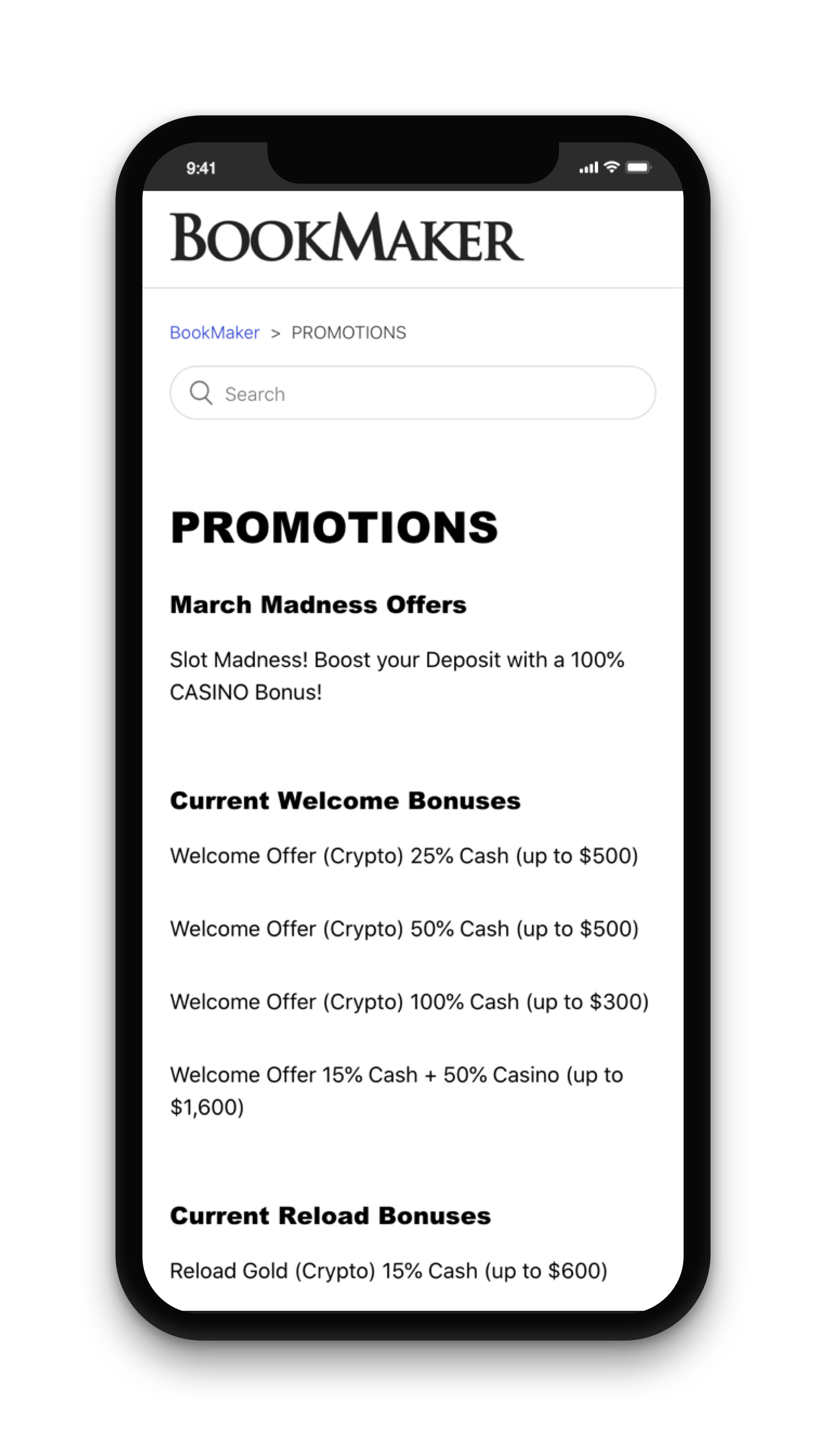 Bookmaker.eu Sportsbook Active Promotions
Bookmaker.eu has three levels of reload bonuses available for those who want to fund their accounts after they play through their initial deposit bonus. There are two stages for each reload, cash and crypto, which we will outline below:
Reload Bonuses
The Reload Gold promotion is a membership rewards program where you can receive a 15% cash bonus up to $600 for reloading your account with cryptocurrency, or 10% up to $400 when you use cash. You must claim this reload bonus at the time of deposit, and you will be required to roll over the bonus amount 8x for crypto and 4x for cash.
The Reload Platinum promotion offers a 25% cash bonus up to $2,500 when reloading with cryptocurrency, and 15% cash up to $600 when reloading with cash. The minimum deposit is $10 for crypto with an 8x rollover; $50 for cash with a 5x rollover, and you must claim this bonus at the checkout.
The Reload Diamond program offers a huge 25% up to $5,000 on cryptocurrency deposits and a 20% cash bonus when paying with another payment method like credit cards. This is only available for those who reach Diamond status, and the bonus must be claimed at the cashier at the time of deposit. You can make a Bitcoin deposit of $10 or more, and claim up to $5,000 in bonus cash that you will need to rollover eight times before making a withdrawal. The Diamond cash bonus only has a 5x rollover requirement.
Refer a Friend Program
The referral program at Bookmaker.eu is a great way to recommend the sportsbook to friends and family, and also receive a reward in the process. You can earn up to $500 for each referral, simply by telling a friend to sign up and make a deposit!
You will have your own personal referral link, you can share that with friends and family, and when they click that link, sign up and make a deposit, you will receive 10% of your friend's initial deposit. Your friend must deposit at least $100 USD within 30 days of registration, and play through their deposit amount at least one time for you to receive your bonus.
You can only recommend friends or family who does not live in the same household - you can't have the same IP address or mailing address as another member.
Racebook Rebates
Many sportsbooks offer rebates on horse betting losses, where bettors have the opportunity to win back some of their losses. Bookmaker also has this promotion, where bettors can earn 3% cashback on all net losses on win, place, show bets, and 8% on all exotics. You can redeem this weekly, and there is no minimum for how much you can earn back!