The Rams wasted no time re-establishing themselves into the crowded Los Angeles sports scene by winning the Super Bowl in 2022. They're now no longer afterthoughts to the Lakers and Dodgers in their own city, and with that, comes increased betting attention across the globe. That's why we've crafted this in-depth betting guide for the Rams. This is mandatory reading before you bet on the Rams at popular NFL betting sites.
Los Angeles Rams Next Regular Season Game
To find the upcoming Los Angeles Rams game, then look at the widget below. The game featured here will be your soonest opportunity to pounce on Rams odds!
My Team's Next Match
Los Angeles Rams
Los Angeles Rams Game Schedule And Betting Line
Below you can find the COMPLETE Los Angeles Rams schedule — all 17 games plus the bye week can be found below. Having this macro-view of the schedule offers an excellent opportunity to plan your long-term betting strategy.
What Are The Current Los Angeles Rams Standings
NFC West is always a dogfight between the Rams and division foes like the 49ers, Cardinals, and Seahawks. You can follow this divisional battle by taking a look at the Los Angeles Rams standings below. Not only will you see how they fare against division rivals, but the whole NFL too.
Standings
Los Angeles Rams
How To Bet On Los Angeles Rams
You can categorize Rams betting odds into one of five groups. We're about to quickly explain each of those to avoid any confusion when the time comes to put money down on LA. The five categories are as follows:
Los Angeles Rams Moneyline
Los Angeles Rams betting lines don't get much easier than the moneyline. With this wager, you're simply choosing whether LA or its opponent is winning the next game. It's that simple, however, odds are almost always sporadic, which makes it harder to make money off this wager.
Los Angeles Rams Spread
For more stable odds, you'll want to look into spreads, which are almost always pegged at -110 — and that goes for whether the Rams are favorites or underdogs. On spreads, the Rams will play with a handicap. If they're favored to win, then LA has to win by more than the pre-set handicap. Anything under the handicap (or any outright loss) means they failed to cover the spread. The opposite goes if the Rams are game underdogs, where winning straight-up or losing by less than the handicap is a cover.
Los Angeles Rams Over/Under
Over/unders are also called point totals, and the point of this bet is to gauge how many points the Rams and their opponent tally together. Bookmakers will set a number beforehand and bettors simply pick whether the actual total score will be over or under that number. Over/under bets (as well as spreads) can be set to full games or halftimes.
Los Angeles Rams Props
Props are rarely ever related to the game's final score, like spreads, moneylines, and over/unders all are. Instead, props are sort of "side" bets on random events within a matchup. Most props are tied to statistics (reminiscent of fantasy football). Examples include over/under on touchdowns thrown or whether Aaron Donald gets a sack or not. Props usually have the largest betting menu cause they can really be wagers on almost anything.
Los Angeles Rams Futures
Futures are different from the previously mentioned bets because they are concerned with long-term outcomes, not single games. By long-term, we mean end-of-the-year results such as whether the Rams win the division or conference title. These bets can also be applied to individual awards such as Offensive Player of the Year or league MVP.
Los Angeles Rams Online Betting Tips
There's no better teacher than experience — that goes betting or any real skill. After all our years of gambling, through the high-adrenaline wins and the gut-wrenching losses, we've learned some valuable lessons when it comes to sports betting. Before you set out to bet on LA, we wanted to share them with you because we know they work more times than not.
Update your opinions regularly: The long, injury-ridden NFL season — that is now 17 games long, not 16 anymore — has a funny way of changing everyone involved, whether you're a coach or a player. Who you are in the season opener will NOT be who you are by the time Week 18 rolls around. It's on you as a bettor to realize these changes and adjust your bets accordingly. Maybe the Rams had a high-flying offense early in the season. But if skill position players begin to get injured, that can change rather quickly. Suddenly, betting the over is the bad bet after months of being the smart bet. You need to be updating your betting beliefs on a game-to-game basis, it's the best way to stay up-to-date with what's REALLY going on with Los Angeles.
Research, research, and research some more: We just stressed the importance of staying updated with the team, but how you actually do so is through rigorous research. That means reading local news (which is more accurate than national news), scouring the injury reports, running back the game tape, among many other things. What we will stress is to not solely judge the state of the Rams by the box score. Numbers don't lie, but they do skew. For all you know, the Rams could've had 170 yards rushing last week, but that was propped up by one massive run and they actually struggled most of the game to move the chains. The stat sheet won't necessarily indicate that, but it will be noticeable by thoroughly watching the game and assessing it with your own two eyes.
You get out what you put in: Everyone wants to be a successful bettor, but very few want to put in the work needed to do so. Betting is tough. Bookmakers stay in business for a reason and they're using advanced models to set the most accurate betting lines. You're not going to consistently beat them out with a mere 10 minutes of Googling before a bet, or worse, gambling with your "gut" instincts. So we urge you to get serious about what you're betting. The more time you put into it, the more likely you'll be able to assess how to bet a situation.
Los Angeles Rams History
Few football franchises have dotted across the United States quite like the Rams. And zero franchises asides from them can say they've won three NFL championships in three different cities, but it's true.
The organization got its start in Cleveland back in 1936. They remained here until 1945 before bolting to Los Angeles. However, they hoisted an NFL title in the final 1945 season. The Rams would make the City of Angeles come until 1994. Here again, they would taste football glory by winning it all in 1951. Then, when the team couldn't secure a new stadium, they bolted for St. Louis where they would win the team's first Super Bowl in 1999.
If you followed the NFL as of late, you know the Rams would return to Los Angeles in 2016 when, surprise surprise, they couldn't get a new stadium built in St. Louis. While LA still had leftover fans from their prior stint there, the Rams weren't completely embraced by a city known to be fickle for sports. That would change when the Rams captured the 2022 Super Bowl with a thrilling come-from-behind win against the Bengals.
Not only did the LA homecoming prove to be fruitful on the field, but on the business end too.  According to Forbes, the Rams have the third-highest valuation in the NFL at $6.2 billion. Most of that is credited to playing in Los Angeles, one of the world's largest media markets. See, kids, it pays to hold cities hostage for brand-new stadiums and if you don't get it, just pack up and leave to greener pastures...
Los Angeles Rams Odds To Win Super Bowl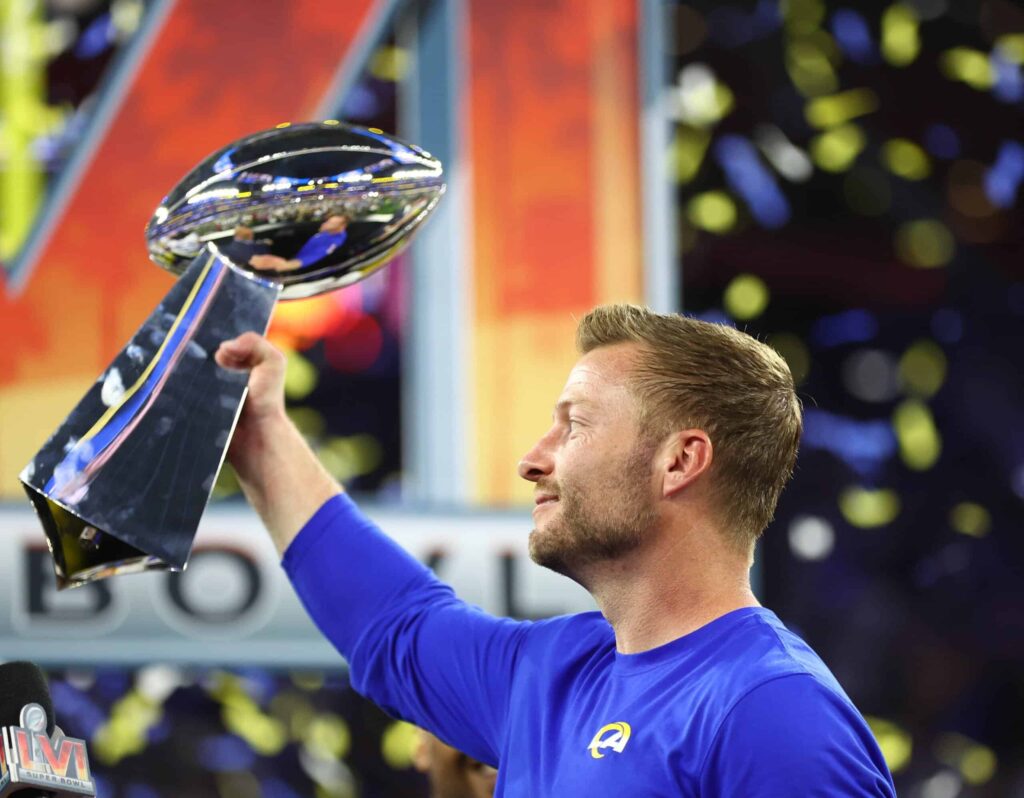 Head coach Sean McVay turned out to be a "miracle man" for the franchise because they left St. Louis as perennial losers. Hired back in 2016 at only 31 years old — youngest in NFL history — McVay, presumably, is barely hitting his peak as a coach. That could bode well for the Rams' Super Bowl betting odds in the years to come. After all, dynasties are built with consistency at the head coach and quarterback positions.
Speaking of which, McVay will have to eventually get younger at the quarterback if multiple Los Angeles Rams Super Bowl victories are to come. Yes, Matt Stafford helped get them over the mountain, but in his mid-30s, Stafford is not exactly spring chicken by player's terms (coaches are different). But the Rams' front-office has proven to do what it takes — splashy signings, trading draft picks, etc. — to win it all, which is never a bad position to align yourself with as a futures bettor.
Where Can I Bet On Los Angeles Rams Online
Looking for places online where you can bet on the Los Angeles Rams? Look no more. We have you completely covered with the best bookmakers around. Read our newest sportsbook reviews for further information about these individual bookies.
More teams
---
Where do the Los Angeles Rams play?

When the franchise couldn't get a new stadium from St. Louis, they left for LA once they secured funding there for what turned out to be SoFi Stadium. The state-of-the-art facility was opened in 2020.

Have the Los Angeles Rams ever won a Super Bowl?

They are up to two Super Bowls now — one in St. Louis (1999 season) and one in LA (2021).

Who is the best Los Angeles Rams player of all time?

The way Aaron Donald is currently playing, he could end up as the all-time best. But he'll need a few more years of elite play. For now, running back Eric Dickerson has a strong case as the Rams' G.O.A.T. (get it?).

What is the Los Angeles Rams schedule?

It's located on this page. Move up on this page and you'll find the Rams' 17-game schedule listed right there!

Where to watch Los Angeles Rams game?

Start with the NFL's TV partners, which are Amazon Prime (streaming technically), CBS, ESPN, FOX, and NBC.

Who owns the Los Angeles Rams?

The Rams are owned by Stan Kroenke, who is a sports business mogul of sorts. He also owns the Colorado Avalanche (NHL), Arsenal (Premier League soccer), Denver Nuggets (NBA), and a few more pro teams.