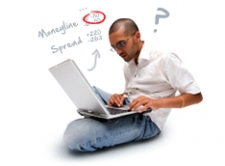 New to betting on sports online? Then you definitely need to read this. Too many new bettors waste  money "learning the ropes." We're here to prevent this, beginning right now. So consider this our step-by-step sports betting guide for those ready to enter the game or veterans looking to refine their approach.
Sports Betting For Beginner Bettors
Sports Betting 101
If you're looking for a more detailed breakdown of specific odds and how to actually place bets, we have that for you here. This space is more about prepping your approach. Making money is all about maintaining a clear, intelligible, deliberate philosophy. There must be a rhyme and reason to everything you do. And we're about to lay out the most effective path to success, by breaking down everything you could possibly need to know.
Understanding Sports Betting Odds
Moneyline Bets
Moneyline bets involve picking a straight out winner of a given competition. That's it.
Odds for these wagers are separated into the favorite and the underdog categories. Favorites are denoted by a minus sign. This number tell you how much you need to bet in order to profit $100. Underdogs are represented by a plus sign. This shows how much you'll win for every $100 you wager.
Take the following NBA betting line: New York Knicks (+350) vs. Milwaukee Bucks (-400). If you chose the Knicks, you'd make $350 in profit for every $100 they gamble should they beat Milwaukee. If you pick the Bucks, you'll have to wager $400 to turn a $100 profit.
The Point Spread
Reading and interpreting point spreads isn't particularly difficult. While they sometimes entail selecting a winner, you're actually more so trying to predict a margin of victory or loss.
These odds are once again split into favorites and underdogs. Favorites are again represented by a minus sign. This lets you know how much they must win by in order to cover the point spread. Underdogs are, once more, highlighted by a plus sign. This number tells you how close they must come to winning for them to cover.
Let's stick with our example from before, but move to the point spread: Knicks (+9.5) vs. Bucks (-9.5). In this case, if the Knicks lose by fewer than nine points or win, they will have covered. Conversely, the Bucks need to beat New York by at least 10 points to cover their end.
The Over/Under
Betting on the over/under doesn't have anything to do with selecting a winning. You're instead attempting to forecast the final combined score of game.
Say the over/under for the Knicks-Bucks contest is 222.5. Investing in the under mandates both teams combine to scorer fewer than 223 points. On the flip side, over bets would need both sides to total 223 or more points to hit.
Types of Bets
Single Bets
This is self-explanatory. Single bets amount to placing just one wager. It can be on a moneyline, point spread, the over/under, a prop or a future. But it won't be tied to anything. Even if you're submitting multiple wagers on your bet slip, none of them will be tied together. They will all stand alone.
Parlay Bet
When building a parlay bet, you are tying two or more outcomes together. Perhaps you want to combine three moneylines, or maybe two moneylines and one point spread. You can mix and match whatever betting odds you want.
The catch: You have to hit on all of your prediction to construct a successful parlay. If you assemble a four-wager ticket and hit on three but miss on one, that's considered a loss. While this does up the risk, you are rewarded with more lucrative payouts for combining odds together.
Prop Bets
What are prop bets? It's a question that's actually tough to answer.
Because prop bets can be anything.
As a general rule of thumb, though, they are small-picture outcomes—lines that aren't related to the outcome of a game, but of events that happen within a game. Consider the following examples for NFL props in a hypothetical matchup between the Dallas Cowboys and Denver Broncos:
The over/under on the number of passing yards Dallas' quarterback racks up.
Which player, from either the Cowboys or Broncos, will be the first to catch a touchdown?
Will the opening coin toss land on heads or tails?
How long with the National Anthem last before kickoff?
Point spreads, over/unders and moneylines by half and quarter
Believe us when we say this list could go on. Prop bets include all different kinds of bet types, be they skill-based or completely random opportunities, and their returns will be presented in all betting forms: moneylines, point spreads and over/unders.
Future Bets
On future bets, you will be asked to forecast outcomes against a larger field—division, conference, whole league, etc.—months in advance of the actual finish. Pretty much all of these bets come against the moneyline.
Take a look at some hypothetical Super Bowl odds:
New England Patriots (+250)
Kansas City Chiefs (+275)
Dallas Cowboys (+350)
Houston Texans (+500)
Seattle Seahawks (+750)
Every team above is paying out better than 1-to-1. That's normal, and it's because they're all, in this case, competing against 31 other teams.
These odds will shift when you're betting on a smaller field, such as a division or conference. Successful picks will see the selected team winning the future accolade: a division championship, conference title or Super Bowl. If they don't, that's it; your bet has lost.
Try to place these wagers prior to the start of league seasons. That's when odds are most lucrative and most widely available.
Round Robin Bets
Some people are intimidated by round-robin bets. You needn't be. They are simply a series of mini parlays you bet under the umbrella of one lump sum that covers every possible two-team combination.
Let's say you're looking at the following three-point spreads: Dallas Cowboys (-3), Seattle Seahawks (+2.5) and Arizona Cardinals (+5.5). By creating a round-robin ticket, you'll place three wagers on two-team combinations: Dallas-Seattle, Dallas-Arizona and Arizona-Seattle.
Sure, you could parlay all three. But after doing this, you've raised the stakes from the individual bets, but you've also protected yourself against one single outcome ruining a three-team parlay.
Betting Strategies for Beginners
Not all betting strategies are suited for gambling novices. Concepts such as arbitrage betting and matched betting are best left explored by those who have been around the block a few times. That said, there are a couple of standout blueprints newbies should consider trying...
Parlay of Heavy Favorites
Though even the heaviest favorites can be upset, there are always games in which the least likely outcome seems unimaginable. You've seen these moneylines before if you've ever bet on sports. Maybe the Kansas City Chiefs are a -750. Or the Los Angeles Lakers are -550. Heavy favorites are any situation in which the win probability of the favorite is through the roof.
Bettors can to take advantage of these odds if they play their cards right. Yes, investing in such heavy favorites individually isn't very profitable. It would take a $750 risk just to win $100 if the Chiefs are -750. If you parlay a bunch of those lines together, however, you'll be able to inflate your potential return north of 1-to-1.
Underdog Betting Strategy
Working underdog moneylines is all about trying to capitalize on potentially huge payouts.
Perhaps you browse the latest NFL odds and see that the New York Giants are a +650 to win against the heavily favored Green Bay Packers. Turning a $650 profit for every $100 you risk is tantalizing, but the odds also suggest there is a very little chance of that happening.
It's a different story if you actually believe the Giants have a much better than the expected shot at squeaking out a victory. Maybe Green Bay's quarterback is questionable with an injury and you don't believe he'll be too effective even if he does play. Or perhaps you've seen lines at other sportsbooks that paint New York as a shorter underdog. Whatever the case, if you can spot long-shot outcomes that you actually believe in, you can play for higher possible returns than if you placed singular investments in favorites.
Betting Sites Guide for Sports Betting
We have reviewed all the best and major online sportsbooks in the industry. Our mission is simple. We have no ulterior motives. We only aim to honestly evaluate every betting destination to ensure you have the best online gambling experience possible by grading every aspect of the process out of 10 points.
Bovada
Only one Bovada category grades lower than an eight out of 10 in our book. Their reputation speaks for itself.
MyBookie
In all honestly, MyBookie has a lot of ground to make up when looking at their website usability and their bonus offerings. They make up for it, however, with strong betting markets and solid customer support.
GT Bets
One of the top online sportsbooks that fly under the radar, GT Bets separates itself from others with the speed of its payout process.
BetOnline
Holy bonuses. If you enjoy promotional money with which to gamble, then BetOnline is certainly a place for you.
BetNow
Few sportsbooks cover all the bases as well as BetNow. In particular, their customer service and mobile experiences are off the charts.
Bet DSI
Website functionality holds back Bet DSI a little bit, but they otherwise run a strong operation that's heavy on betting markets and prides itself on quickly processed transactions.
Bodog
As one of the biggest sportsbooks in existence, it makes sense that Bodog fares so well by our standards. Their weak point is there betting odds—they can close futures early and don't offer the best of props—and yet they still hit a 7.5-out-of-10 in that department.
Bookmaker
If you can get past limited deposit methods, you'll find that Bookmaker stacks up against the best of the best sportsbooks.
EveryGame
Having been around in some form for three decades, EveryGame knows what it's doing. They don't provide as many live-betting options, but that's the sole fault point of their sterling operation.
Betting By Sports
Certain sports are more suited to beginning bettors than others. These are our favorites.
NFL Betting
Nothing is more popular than betting on the NFL. Offense is currently king in this league, making it the perfect place for over/under wagers. It's also a fairly lucrative league when it comes to wagering on Super Bowl futures.
College Football Betting
If you like gambling on the NFL, you'll enjoy college football betting. Defenses have a little bit more of an impact, because the offenses aren't as good, but this is still a great area in which to work the over/under and, perhaps, build some heavy-favorite parlays.
NBA Betting
Star power? Fast-paced offense? High scoring affairs? The NBA betting sphere has it all. This league is most popular for its point spread, moneyline and future wagers.
College Basketball Betting
Contrary to NBA wagering, college basketball betting is basically an entirely different game. Offenses aren't even close to as good, so we recommend sticking with moneylines over point spreads and the over/under—though point spreads are more appealing during the March Madness tournament.
MLB Betting
Give MLB betting a try if you're a fan of small point spreads and low over/under lines. They also have a strong futures market that spans division champs all the way up to World Series winners.
NHL Betting
In case you didn't already know, NHL betting is some of the most difficult wagering opportunities. out there. Upsets are rampant, even during the Stanley Cup playoffs. This can drive up your risk, but it also makes the NHL a great place to try out underdog betting strategies.
Soccer Betting
The intrigue of soccer betting is global—more so than any other sport. The nature of it is similar to those of MLB betting and NHL betting. Scores will be lower, which makes parlaying moneylines, working underdog lines, or investing futures especially tantalizing.
Other Sports to Choose From
There are plenty of other betting options to choose from, and we have breakdowns on the following sports and events:
Betting FAQ
Is online betting profitable?
This is somewhat of a loaded question without one answer. In short, yes, online betting can be profitable. But it takes work.
Online sportsbooks exist to make money. The largest bankroll in the world doesn't guarantee you anything. Nor does following anyone betting approach. You need to do your research on your wagers and commit to timing the markets as best you can.
You also need to be a consistent player. Simply helicoptering in every now and again lends itself to losses. Those who constantly subject themselves to betting lines, strategies and research tend to do the best.
Is it safe to bet online?
You don't have to worry about placing bets online. It's incredibly safe.
The trick is to find a reputable sportsbook, and that's not hard. We've reviewed and relayed a bunch on your behalf. Beyond that, given the sheer breadth of payment methods available to you, there's no reason to worry about the security with which you place transactions.
How much money should I bet?
This is entirely up to you. Everybody's bankroll is different in size and scope.
The cardinal rule of sports-betting purses, though? Never gamble money you cannot afford to lose. Budget deposits and potential misses into your spending, and you'll be on track to ensuring you never unecessarily overextend yourself and your finances.
---
Other Pages in this Betting Guide
Winning Strategies used by Winning Bettors
Software: Tools That Give you an Edge