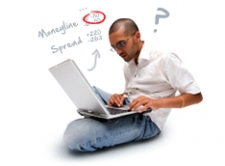 New to betting on sports online? Then you DEFINITELY need to read this. Too many newbie bettors waste too much money "learning the ropes" and this guide aims to prevent this. There's never a shortage of bets to choose from for any given event, so the #1 rule of thumb is to make intelligent, informed bets. While this "How-To" betting guide may be brief we can guarantee it'll get you started on the right foot, and prevent you from making the usual rookie mistakes.
How to Bet On Sports: 5 Tips
1- Play at the Best Sports Betting Sites
Answering what is the best sportsbook is a lot like asking somebody who's the hottest girl in the world, or which one of their kids they like the best. Different moods have different versions of best. If you want a sportsbook intended for the recreational bettor that has a lot of fun entertainment prop wagers like "Who Will Be America's Next Top Model", then Bodog would be the best sportsbook, but if you are looking for the online sportsbook with the best Customer Service, then Sportsbook.com would be considered the best. Just like the weather, definitions of "best" always fluctuate and that is why we've made it easier by listing only recommended online sportsbooks with detailed reviews and ratings. Now you can decide what the best sportsbook is for you!
2- Get a good sports betting bonus
Every online sportsbook we recommend has a great signup bonus; the only differences come with the bonus amounts, wager requirements, and bonus eligibility. For most recreational players the Bodog.com Sportsbook has the best bonus. Although it is only 10% of your initial deposit, there is no limit to the amount you can deposit which pretty much means your signup bonus is unlimited, and the Bodog.com signup bonus comes with only a 1X wager requirement in the sportsbook. That means that if you were to deposit $100, you would instantly receive a $10 bonus, and only have to make $110 in wagers in order to withdraw the $10 bonus. If you didn't want to make $110 worth of wagers, you could still request a withdrawal but the $10 bonus would be removed from your balance.
3- Know your Sports Betting Odds
Different online sportsbooks have different odds. Typically sportsbooks have fairly similar odds, however for certain games you will notice a slight difference. Whether the difference is in your favor, or against, depends on the wager. For example, in Super Bowl XLV the BetUS.com online sportsbook had the Packers listed as -2.5 (-105) odds on the Point Spread, whereas the Bodog Sportsbook had the Packers posted at +3 (-110) odds on the Point Spread. If you were looking to bet on the Packers on the Point Spread then BetUS.com would have the best odds, but if you were looking to bet against the Packers on the Point Spread, then Bodog would have the best odds. Clear as mud? Don't worry, just take a look at our betting odds comparison section and you will see what we are talking about.
4- Our Online Sports Handicapping Advice
When it comes to online sports handicapping the best advice we can give players is to relax & have fun. Everybody wants to make money betting, and there is more than enough money to get paid out. Every wager in the history of time has always had a winner, or at least a draw, so don't get caught up in the hype of thinking you have to do hours of research to pick a winner, or that you need insider information to win on a long shot. Some guy who spends Monday-Saturday picking his Sunday picks theoretically has the same odds as winning as somebody who just picked their bet based on which team has better looking cheerleaders. We do however recommend that you do some research, but as a general rule of thumb don't spend more time researching on which team to place your money on longer than the time it takes you to watch the actual game.
5- Are Free Sports Betting Picks any Good?
Yes, we like anything that is free, however free picks should be taken with a grain of salt. Anybody giving away free picks will usually have their win/loss record posted which lets you be the judge for yourself. Also when using any type of picks whether they are free or paid, it's usually dependent on a record based on an average which means the system is 80% correct only if you place every pick they recommend, not just picking and choosing which picks of theirs you like. This is often where players get frustrated because they end up with a winning average less than advertised because they didn't bet along with the system. The handicapper may go 8/10, but if you only use half of their picks, you might only go 3/5.
---
Other Pages in this Betting Guide
Winning Strategies used by Winning Bettors
Software: Tools That Give you an Edge
Stats & Trends: Use them to your Advantage